Huntington Bank Converts Debit Cards From Visa to MasterCard
Huntington checking customers are part of a major overhaul by the bank after locking in a partnership with MasterCard.
Visa has been traded for MasterCard as Huntington Bank (NASDAQ: HBAN) hands out new debit cards with improved benefits.
All existing Visa debit cards from Huntington are being swapped for debit Mastercards. The upgrade will impact 1.5 million consumer and business debit cards issued by the bank.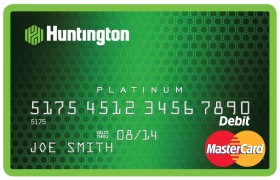 "We are excited to partner with MasterCard to give all our customers a much better, value-enhanced platinum debit card making it part of our 'Fair Play Banking' philosophy of bringing superior value to our customers," said Huntington CEO Steve Steinour in a statement.
New Card Perks
Consumer banking customers have begun receiving a new green (or exclusively-designed) Huntington Platinum Debit MasterCard, which offers plenty of benefits over a standard debit MasterCard.
In addition to the standard zero liability on fraudulent purchases, the Platinum Debit MasterCard comes with extended warranty coverage, price protection, purchase protection, and travel and road assistance.
Private banking customers get the brown Huntington World Debit MasterCard, which offers return protection and exclusive access to experiences and offers in addition to Platinum level benefits.
Changes to Expect
Huntington Bank debit cardholders should be aware of what the debit card conversion means for their usage.
The debit card number and expiration date will change. Customers are advised to reconfigure their automatic or recurring payments that are linked to the old debit card number.
Existing Visa check cards will be deactivated when the newly-issued Huntington Debit MasterCard is activated.
Still Consumer-Friendly
The news offered the opportunity to reiterate the bank's steadfast stance against charging for basic checking and debit card usage, which many large banks have resorted to doing after the new debit card swipe fee rules.
Even after revamping its checking account offerings, Huntington Bank is one of the few large regional banks that still provides a completely free checking account called Asterisk-Free Checking.
The new debit cards have already begun reaching the mailboxes of customers. All customers should have the new cards no later than October 31.
Ask a Question