Popular Community Bank Unveils Mobile Apps
The bank in rebranding mode dives into mobile consumer banking with new apps carrying its new name.
Popular Community Bank, North American subsidiary of Puerto Rico-based Popular, Inc. (NASDAQ: BPOP), launched native mobile banking applications for the iPhone and Android platforms this week.
Common to the first iterations of mobile banking apps, the Popular Community Bank Mobile apps offer basic mobile banking capabilities. Users will be able to check accounts balances, review recent activity, transfers funds between accounts, pay bills, and locate nearby branches and ATMs with through search or GPS.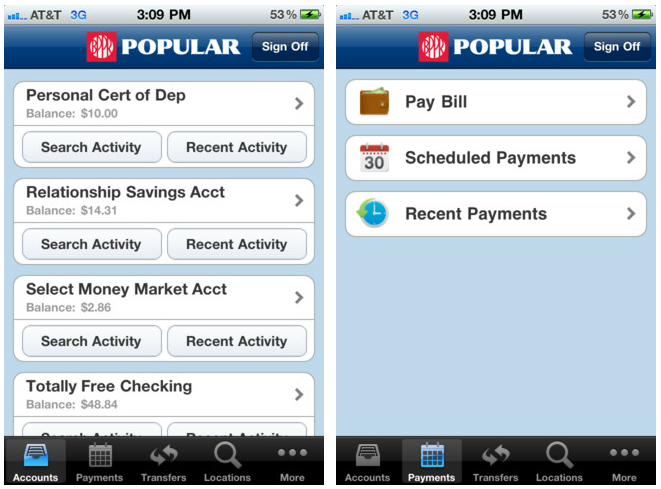 One minor feature that isn't found in many mobile banking apps is the ability to search for a recent transaction by date, amount, or check number.
Popular Community Bank spokespeople did not reply to a media request regarding mobile banking features in development for future upgrades.
The New Name
The release of the Popular Community Bank apps arrives in the middle of long re-branding phase taken by Banco Popular.
As the biggest bank in Puerto Rico and one of the largest banks in the U.S., Banco Popular has catered largely to a Hispanic customer base through a retail presence of nearly 100 branches in California, Florida, Illinois, New Jersey, and New York.
The bank began testing the "Popular Community Bank" brand in Illinois during the summer of 2010. New signs went up in Florida and California just recently. Changing the name was part of an expansion strategy to attract more non-Hispanic customers.
Currently, branches in New Jersey and New York are still sporting the Banco Popular brand, but new signs will go up in 2012.
According to a Banco Popular customer service representative, all U.S. customers will be able to access their accounts through the Popular Community Bank (regardless of the rebranding initiatives in the state).
The apps are available for download now in the Apple App Store and Android Market.
Ask a Question