Nursing Home Costs On The Rise
Nursing homes and other long-term health care services are expensive and can quickly drain retirement funds and other accounts. These costs are not expected to fall anytime soon.Nursing homes have a reputation of pretty much charging whatever they want because they provide around the clock care and an all-encompassing service. In fact any type of long-term assisted living will cost a small fortune.
Price Hikes Minimum 4.4%
According to a newly released study from MetLife Mature Market Institute, which surveyed the costs of nursing homes, assisted living, adult day services and home care, national average rates rose across the board:
Private nursing home rooms increased 4.4% to $239 daily ($87,235 annually)
Assisted living rates increased 5.6% to $3,477 monthly ($41,724 annually)
Adult day services increased by 4.5% to $70 per day
The only exception was home health aides and homemaker/companion services, which are paid by the hour. These rates remained unchanged at $21 and $19 per hour, respectively.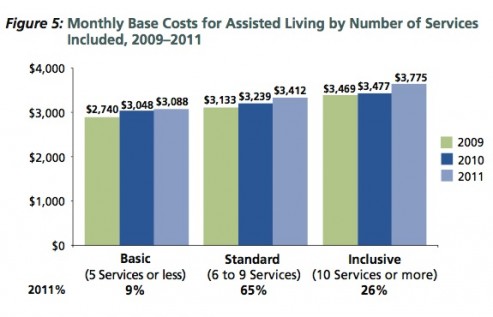 Director of the MetLife Mature Market Institute Sandra Timmermann attributes these rises to health care and energy costs as well as the root of all issues, our severely crippled economy. In that case you might want to consider having your elderly loved ones move in with you to cut costs.
Where to Find the Lowest Rates
If you're researching long-term care, you can access the full list of facts and figures by downloading the study. States have differing rates depending on the care you are looking for.
If you need a nursing home, try to avoid going to Alaska. It holds the highest average daily rates for private nursing home rooms despite a slight rate decrease from $687 in 2010 to $655; Louisiana has the lowest with an average of only $141 per day.
If assisted living is your preferred service, Arkansas has the lowest average monthly base rate at $2,156, while Washington, D.C. was on top with $5,757.
Finally, adult day services are least expensive in Alabama, which have an average daily rate of $29. Conversely, day services in Vermont will cost an average of $148.
Ask a Question