Bank of America Gets Rid of Debit Card Fee
Bank of America® no longer plans on charging their monthly debit card fee after other big banks decide not to charge a similar fee.
Bank of America® (NYSE: BAC) has announced that "in response to customer concerns and the changing competitive marketplace, Bank of America® no longer intends to implement a debit usage fee."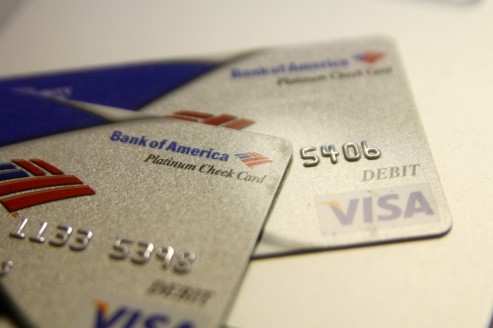 "We have listened to our customers very closely over the last few weeks and recognize their concern with our proposed debit usage fee," said Bank of America® co-chief operating officer David Darnell in a prepared statement.
"Our customers' voices are most important to us," he said. "As a result, we are not currently charging the fee and will not be moving forward with any additional plans to do so."
The Domino Effect
Bank of America®'s announcement comes on the heels of virtually every other large retail bank announcing that they would be doing away with their debit card fees.
Starting on Friday, JPMorgan Chase made the decision to end their debit fee pilot program in Wisconsin, and announced that they would not be charging any of their customers fees for debit card use. This revelation, from what is now the biggest bank in the United States by deposits, caused something of an industry-wide domino effect.
After JPMorgan Chase made their announcement, Wells Fargo came out saying that it would cease its debit card fee pilot program. On Monday, SunTrust and Regions Bank said they would stop charging their debit card fee and refund customers who paid the fee.
Bank of America® was alone with their debit card fee, until today.
Customers Get a Break
Announced in late September, Bank of America®'s $5 monthly fee was widely criticized by customers and commentators, and was defended by industry insiders as a direct result of regulatory pressure created by the Durbin Amendment, which limits the amount that banks can charge retailers for debit transactions.
The original plan exempted customers with a balance of $20,000 or more from paying the fee. On Friday, Bank of America® was said to be considering more ways for customers to avoid the fee after customer concerns were taken into account. But, ultimately, the bank has scrapped the idea altogether.
This is good news for consumers who can now rely on free debit card usage, virtually industrywide. But, we would be remiss if we didn't point out that free checking is still a thing of the past.
Most large retail banks have introduced fees to their checking accounts, in response to the Durbin Amendment, unless customers use direct deposit or keep certain minimum balances.
But monthly checking fees failed to cause the widespread outrage that debit card fees did. While checking fees are avoidable for the most part, debit cards are incredibly convenient for customers — to avoid using them would mean going back in time for most, relying on cash and checks.
Ask a Question