American Express® Prepaid Card, Doubles as Campus ID
American Express ventures into the wallets of college students on the campus of University of North Florida with a prepaid campus ID card.
Increased functionality is finding its way onto the University of North Florida's (UNF) campus ID card through a partnership with American Express.
The new Osprey 1Card is the card issuer's first prepaid card that also doubles as a campus ID card. UNF students can use the ID card to pay for campus dining and at all other locations that access American Express cards.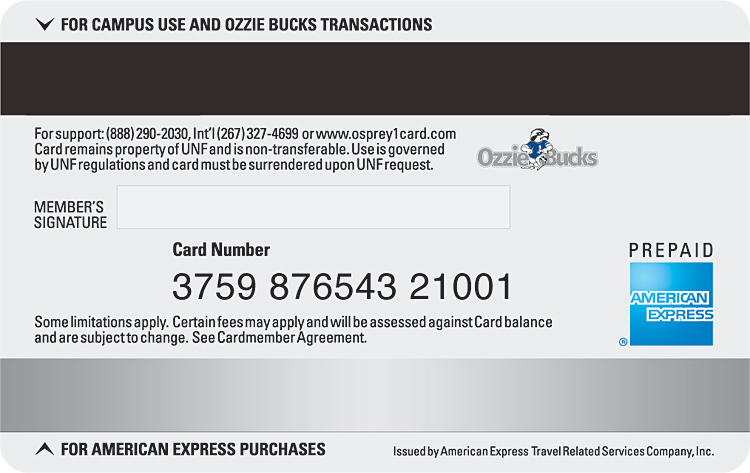 The card has two magnetic stripes, one for usage on campus locations and one for American Express prepaid purchases. There are no fees for monthly maintenance, activation, balance inquiries, alerts, or foreign currency conversion.
The card can be loaded by transferring funds from a bank account or via Money Pak, available at major retailer locations. Funds don't have expiration dates and they're safe if the card is lost or stolen.
The first withdrawal per month is free, the per-withdrawal fee is $2 afterwards (ATM operator may also charge a fee).
Back to School
The Credit CARD Act essentially kicked banks and card issuers off college campuses. Under the new legislation, they were forbidden from marketing credit cards to students on school premises and anyone under 21 could not apply for a credit card unless they had a co-signer or reliable income.
However, more and more financial companies are making appearances again with other ways to cater to the consumers in the younger generations.
SunTrust and Fifth Third Bank are among the other financial companies that have also started issued dual-purpose campus ID/payment cards.
By comparison, these cards do not jeopardize the finances of students as they do not lend a hand in accumulating mountains of high-interest debt.
"Because it's prepaid, they can't overspend and the Card offers tools and alerts to help them manage their money responsibly," said Tully Burnet, associate director of auxiliary services at UNF, in a press statement.
Ask a Question