No Balance Transfer Fee for New Chase Slate®SM Cardholders
Those on the market for a new credit card should look to Chase Bank's SlateSM with BlueprintSM—for a limited time new customers can enjoy the convenience of no balance transfer fee for the first 30 days.
While rewards and cash back deals are enough to attract some consumers to credit card new credit cards, Chase's SlateSM card offers features for those that tend to carry credit card balances from month to month and are more concerned about locking in competitive interest rates. And, for a limited time only new cardholders won't be responsible for the 3% balance transfer fee the bank charges for first 30 days.
As with most credit cards, the interest you pay on Chase's SlateSM with BlueprintSM card will depend on your credit. Those with either excellent or good credit can expect to pay no interest for the first 15 months of opening their card on both purchases and balance transfers, while that rate increases to a variable rate of between 11.99% and 16.99% thereafter.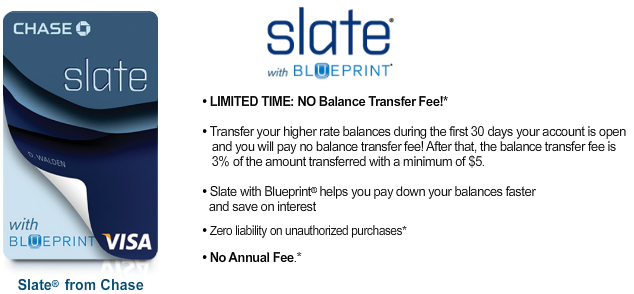 If your credit is less than perfect then you'll also get a 0% introductory APR, though that will last just six months. Thereafter, you'll pay a hefty variable rate that currently rests at 21.99%.
In addition to the low interest you'll pay, the Chase Slate®SM card also features its famous BlueprintSM management tool, which helps cardholders to create payments plans to help them pay off their balances quickly and easily.
With no balance transfer fee, Slate from Chase can help those who are looking to consolidate their credit card debt. By moving balances from other credit cards on to the Slate card, you have 15 months of interest-free time to get ahead on debt payments.
How To Get This Deal:
To apply for this and all other credit cards you must be at least 18 or older (19 in Alabama and Nebraska). Based on your own specific credit history, you may receive a card with different costs or you may not receive a card at all. Moreover, failure to fill out your application completely is grounds to be denied credit by Chase.
To get your 0% balance transfer with no balance transfer fee, click here to apply for the Chase Slate® card.
If the Chase Slate®SM card isn't for you, then check out other options offered by the bank to fit your credit needs. And, peruse our bank deals section for more offers on credit cards, checking accounts and other financial products that may fit your needs.
Ask a Question