Black Friday: 3 Ways to Start Preparing This Week
Is it just us, or is Christmas being advertised earlier and earlier in the year? It seems like a key component to holiday shopping is Black Friday and more recently, Cyber Monday. Here are some ways to make sure you are prepared for the best deal, and most productive shopping experience.
Black Friday is notorious for being a hectic, sleep-depriving shopping spree that is more of headache than blissful experience. Hoards of shoppers pour into their favorite stores to play tug-o-war with the cheapest products. Unfortunately, the economy has pushed many to participate in this crazy shopping tradition.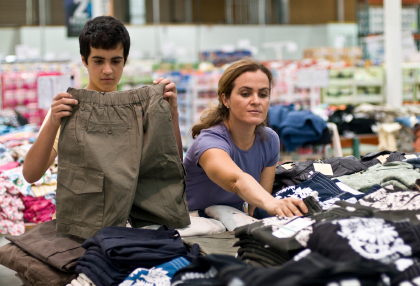 Now is the best time to start thinking about Black Friday, before you get wrapped up in arranging Thanksgiving travel plans, dinner plans or any other plans. Whether you are a seasoned veteran or new to the bargain deals game, there are a few things you can do well in advance to make sure you not only score the deals, but you get out in one piece.
1. Make a list, Check it Twice
As with anything, it's important to have a game plan. Black Friday and Cyber Monday are not for the casual browsers looking to score a deal, you must shop with a purpose. When making a list, consider three things:
For whom you need gifts
How many gifts you need in total
The prices of the products
Another important thing to consider when putting together your shopping list is spotting certain gift trends. Tons of websites and shows will have reviews in the upcoming months. So if you want to buy toys, books or technology for those loved ones in your life, take this pre-holiday lull to do some research on the hottest trends and their alternative. Once you have all this figured out you are ready for the next step.
2. Decide On Shopping Location
This may seem like a no-brainer, clearly you cannot do Black Friday if you don't go somewhere. Once again, there should be some strategy to the madness. Your list from step one will help you choose a store that carries most of the items needed, that way if you get burnt out (which is a definite possibility) you will at least have saved on those big ticket items. Here are some things to consider when choosing which locations:
Which store carries the most items on your wish list
Are they participating in Cyber Monday
What are the Black Friday hours? Some stores, like Target, Macy's and Kohl's have announced special midnight openings.
Are they near other stores you'd like to visit
If the store you want to visit is participating in Cyber Monday, check out their terms & conditions, you may find you'll have more luck keeping your PJs on and shopping from home.
3. Map Out The Store
Yes, this one may sound a little intense, but hey you gotta do what you gotta do. Now is the perfect time to be scouting out where everything is located in your favorite stores.
You may have shopped there millions of times, but have you ever consciously observed where you are, and where products are located? In the frenzy of Black Friday you may be so flustered that you forget where certain items are located — not to mention all the distractions, including displays and other shoppers.
Since you have already mapped out which stores you are going to, and what you are buying in steps one and two, it will be easy to just drop by and figure out the best plan of attack when you are in the store.
These three simple steps may seem basic, but the truth is a lot of people don't put a lot of planning into the craziness of Black Friday. If you go shopping with purpose you will get the most out of your experience. Good luck!
Ask a Question