Diamond Dispensing ATMs Hit Mumbai
First money, then gold, now diamonds? It's true, the first diamond dispensing ATMs have hit the market, but you'll have to head all the way over to Mumbai, India to use it.
Some may argue that this is more of a jewelry vending machine, but one thing is clear; it's a definite sign that India is doing well economically.
India was also first to come up with the concept of gold dispensing ATMs which donned the Emirates Palace Hotel in Abu Dhabi. Last year we reported the launch of the same ATMs in Boca Raton, Florida.
The machine works similarly to an ATM, but instead vends gold and silver in the shape of bars, coins as well as religious-themed, diamond-encrusted jewelry. No matter what kind of method you prefer to pay with, the machine accepts credit and debit. If you think this is slightly overboard, you'll have to take up your concerns with Gitanjali Group, the creator of these machines.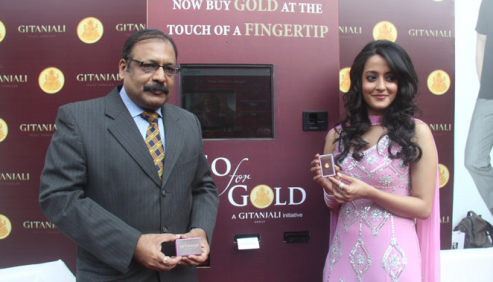 You can't have an extravagant product-release without an extravagant presenter, above is Gitanjali CEO Sanjeev Agarwal and Bollywood actress Raima Sen.
Diamond ATMs: Is there a need?
When making a big investment like gold or jewelry it would seem that consumers would want someone to sit down, walk them through the process and really take time to pick out the best piece. But what if you just remembered your anniversary is today?
With prices ranging from $20 to $600 (or 1,000 to 30,000 rupees) individuals with any sized budgets are bound to find something to suit their needs. Although jewelry serves a meaningful purpose anywhere in the world, in India there are traditional religious aspects tied to the purchase of certain pieces.
"We are targeting customers seeking last-minute purchases, mainly for gifting purposes. Instead of gifting flower bouquets, etc, people may like to gift precious metals, which have appreciated consistently in the last few years." Said Sanjeev Agarwal, CEO of Gitanjali Exports, said in a statement to Business Standard.
Gitanjali is planning on expanding this service to high-traffic areas such as malls, airports and even temples. We wonder if Sushil Kumar will be stopping by this latest addition to India's market?
Ask a Question