Mirroring the Investments of a "Fool"
People will spend a good percentage of their earnings on finding out where to invest their money for even higher returns, so online services such as Motley Fool offer full access to their trading methods.
When performing some research on where and how to invest a generous gift I received from my grandmother, I was introduced to yet another way that "social networking" has pervaded a well-established space – the space of investing.
Services like Covestor and Currensee and a few other smaller ones will actually allow you, after opening a qualified brokerage account, to link said account to an investor of your choice and "mirror" his trades.
How to Mirror Trades
That's a lot to take in; let's back up. The websites all work essentially in the same way. Investors with a proven track record of success according to the website commissioner's standards register themselves as leaders. Then anyone can browse the respective leaders' investing styles and track records.
After researching, you can can link your account to theirs to benefit from their sagacious choices.
The leaders don't know who specifically has linked up to their account; rather they just see how many. They do not care who you are. They only want to invest better and better, with their own money mind you, to attract more followers who will flip them a small percentage of their earnings as a service fee.
The website in turn makes a percentage from the leaders. It's a brilliant plan. Win-win-win.
I was debating between the different methods I had just learned about when I received an email from the Motley Fool concerning:
The Motley Fool Million Dollar Portfolio
From what I understood when I received my exclusive invitation to join hundreds if not thousands of others in co-founder Tom Gardner's quest to turn their $1 million portfolio into $1 billion over 50 years, they would be employing a similar method.
It will be more intimate because I can follow along in realtime their expert portfolio manager Ron Gross, who will also be investing his own real money to ensure me that I'm getting his best possible stock picks and investing choices.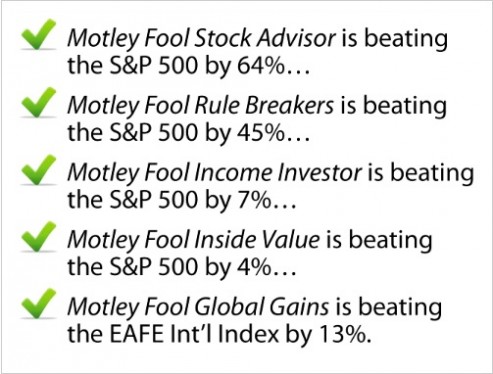 The email invitation came along with a link to a video/slide show invitation that reiterated the same basic points multiple times for no less than an half an hour (I was checking my Facebook after 10 minutes, almost dozed off after 20 and finally had to go to the bathroom after 30).
Most importantly they touted their previous success, the exclusivity of this offer (membership is only opened once a year for about ten days), and the amount of insight I'll have into Ron Gross's actual trades before he even makes them, allowing me to mirror him exactly.
This will also save me the time of reading through hundreds of pages of investing advice on the hottest stock picks and companies.
One thing they weren't clear about was how they'll turn $1 million into $1 billion – does that mean they'll only invest up to $1 million and stop taking your money after that? I doubt it.
What I Learned
But I noticed that even though the revolving slides of text and a few prevalent images were excruciatingly long and boring, Motley Fool's offer was just what I needed to believe in the power of Covestor and Currensee.
I was only looking for a way to invest a few hundred bucks, and a one-year subscription costs $600 (down from $1,000). This made the three-year subscription look very attractive in comparison at just $1,000 (down from $3,000).
I realized that I liked this service but not those prices, which would've eaten up most of my principle. Now I much better understand this hands-off approach to investing that still lays out the investment strategies and decisions transparently, even if the pitch was soporific.
In case you were wondering, I said, "Eh, forget it," and just threw the money in a 5-year CD.
Ask a Question