Automatic Data Processing, the payroll giant, released a report on October job numbers that show a glimmer of hope for economic recovery. For those worried about the economy tipping into another recession, they can rest easy for now.
In a report released on Wednesday, ADP announced that the private sector added 110,000 jobs in October. While that number doesn't quite cut into the current unemployment rate, the report shows some strength in small business growth, and can allay the fears of those who believe a double-dip recession to be imminent.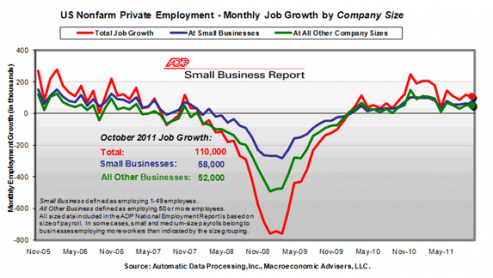 Small businesses (defined by ADP as businesses with one to 49 employees) added the majority of the jobs created this past month, by adding 58,000 employees to their payrolls. Medium-sized businesses (defined by ADP as businesses with 50 to 499 employees) added slightly less than that, 53,000, to be exact.
Meanwhile large businesses, those with more than 500 employees, lost about 1,000 jobs over the last month.
Looking at the data by sector is a bit disheartening. The goods-producing sector did not fare too well, shedding 4,000 jobs. The service-providing sector, meanwhile, created virtually all the economic growth in October — 114,000 jobs were added by the service sector last month. Manufacturing, specifically, lost 8,000 jobs.
According to Gary Bulter, CEO of ADP, this growth pattern "reflects manufacturers' uncertainty around investment and hiring."
While these numbers are not across-the-board exciting (they're slightly lower than the September job growth numbers), they at least point to an economy that is not shrinking. Our economy is growing, just much too slowly.
ADP partners with Macroeconomic Advisers, LLC, an economic analyst firm, to produce these job numbers. They pick randomly from a sample group of 500,000 U.S. companies and extrapolate nationwide job numbers from the sample group. Their numbers include all non-farm private sector jobs, and do not include government employees. The Bureau of Labor Statistics will release their report, which includes government employment numbers, later this week.
Ask a Question