Advantages of Integrating Mobile Banking into Banking Habits
With banks striving to improve their online and mobile presence as best they can, some even promote themselves based on their mobile apps.
Students have the biggest advantage in this arena. As a young adult well versed in technology and mobile activities, the advancements that companies introduce are really geared toward you. Therefore, you should learn how to best implement mobile banking into your banking habits.
Story highlights:
Learn about the mobile banking features your institution offers.
Learn new ways to manage your money.
SMS banking is slipping.
With mobile banking, trips to a branch become a lot less frequent.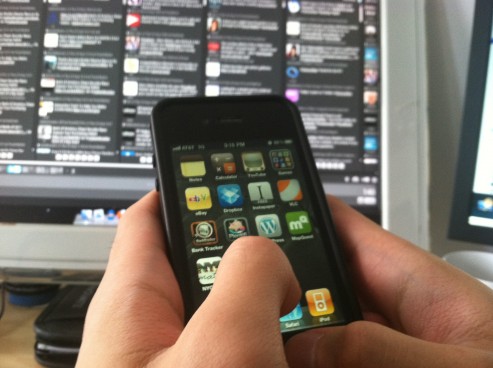 It is safe to say every legitimate bank has online presence and most of them have a comprehensive app. Depending on the type of phone you have, you will be able to view your finances in a whole new light. Even if you're not working with a smartphone, there are ways to take your banking mobile.
As smartphones phase out SMS banking, getting a text with your account balance, a notification that a large withdrawal was made, an alert that you have insufficient funds and a one-time password to perform transactions, among other messages, will soon become a thing of the past.
Another issue with SMS banking is security, which is why most of the functions you can perform through texting are benign to your actual account. Texts featuring past transactions and account balance will not include any personal information to potential thieves.
So let's proceed to the more thorough apps. Almost every bank, from the top down has a native iPhone (and even iPad) app at this point. Therefore, to be a responsible member of the banking world you should know how you could manage your accounts on the go.
One very common example of how your bank's app can help is right before you visit a foreign ATM or make a debit card purchase at the grocery store.
Of course you'd like to check your balance, but there is much more. Let's say you see you only have $61 in the account, which reminds you that a $60 electric bill you still never paid is due tomorrow. Instead of getting slammed with an overdue fee, you can pay it on the spot, even if it means forgoing your original plans for that cash.
Banks compete by integrating the best features into their apps, most aptly shown by how many added Quick Deposit once it came out. Going back to our original scenario you remember you still haven't deposited the check with your roommate's half of the bill. With Quick Deposit you can snap a picture of the front and back of the check and the money will be automatically deposited into your account.
If you're not fortunate enough to bank with an institution that offers that convenience, your bank's app will certainly show you how close the nearest branch/ATM is and you can deposit the check in person.
You can also transfer funds from your savings account to your checking and contact customer service with a one-touch button straight from the app.
Finally the most futuristic aspect of mobile banking: P2P (person-to-person) payments. The service is widely offered on many financial institutions' apps and gives you the ability to send money to someone with just their email address or phone number. The recipient enters his personal information to claim the funds.
This is especially convenient at restaurants where you may have to split the bill with a few friends or for paying your share of rent and utilities to the roommate in charge of collection. You can even pay someone a couple of bucks if you don't have the cash on you right then.
Mobile banking has become a necessary and inherent part of banking and there are many ways to integrate it into your banking habits. It also makes life a lot simpler, so take advantage of all the features available!
Key Takeaways:
Banks are largely gearing their mobile apps to the young adults.
See and manage your money on the go right from your smartphone.
Mobile banking will help you eliminate overdraw fees and late fees on bills.
You can securely send money to friends straight from your phone.
Ask a Question