U.S. Bank and TrueCar Team Up to Make Auto Buying Easier
U.S. Bank has launched a service to bring auto purchasing and financing together at your fingertips. You could potentially buy a car and get a loan in minutes.
The U.S. Bank Auto Buying Service offers consumers a quick, easy, and straightforward way to get their car shopping done, without all the haggling that makes the process so stressful. Users can browse different models and makes of autos and lock in guaranteed upfront prices from U.S. Bank's network of more than 5,000 certified dealers.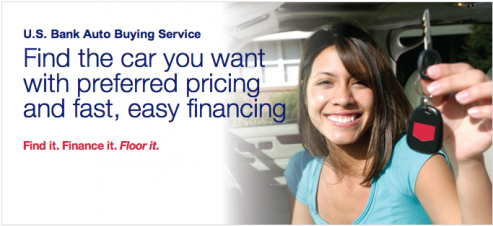 Lock In a Competitive Price
"You'll get your exclusive low price in writing before you ever talk to a single car dealer," promises the site. They do this by incorporating TrueCar into their system. TrueCar is a service that provides completely transparent pricing for online auto shoppers. You simply enter the make and model of car you're looking for, followed by your ZIP code, and TrueCar finds out what regional average sales prices have been for certain cars. They also list the actual dealer cost of the car, which is typically a few thousand dollars lower than the factory invoice — the price that dealers will tell you they pay.
U.S. Bank's Auto Buying Service incorporates this transparent pricing into their search results, allows you to make specifications and upgrades, then connects you with a dealer, with your agreed-on price already locked in.
Ease is the Name of the Game
Then, you can turn to U.S. Bank for help financing the purchase. Easy as that. And that's the goal. U.S. Bank wants to make auto shopping an "exciting, rewarding experience."
So, rather than haggling with a hot-headed dealer over a cup of stale coffee, and fending with his pricing tricks and ulterior motives, you can simply lock in pricing and find financing afterwards — instead of having to find financing first, not knowing the exact price of the car you'll be purchasing.
"The U.S. Bank Auto Buying Service gives our customers a fast, predictable and hassle-free shopping experience, with a direct connection to financing information," explained David Herpers, VP of consumer credit at U.S. Bank, in his prepared remarks, "so they can take action if they find the perfect vehicle." The service takes the guesswork and game theory out of the process of buying a car.
Since its inception, TrueCar has saved its 350,000 users $1 billion off of new car MSRPs. Perhaps this partnership with U.S. Bank will pass more savings down to consumers.
Ask a Question