BofA $410M Settlement Covers Few Overdraft Fees
Expect a credit to your account (or a check in the mail) if you had a Bank of America® debit card within the past ten years. Those who got slammed with overdraft fees are entitled to some money from the bank, but not enough payment to offset losses.
On Monday, a federal judge approved a $410 million settlement in a class-action lawsuit that affected over 13 million Bank of America® (NYSE: BAC) customers. The fees, usually $35 per occurrence, impacted customers banking with BofA during the January 2001 through May 2011 period.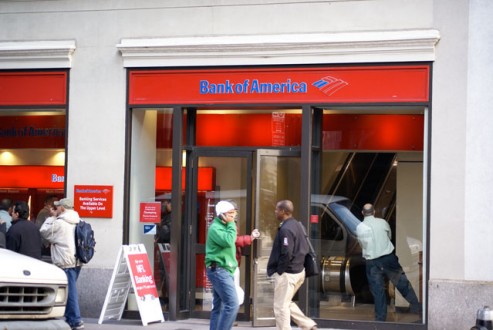 The problem surfaced when Bank of America® allegedly processed their customers' debit card transactions from highest to lowest dollar amount. This action maximized the overdraft fees customers paid when there wasn't enough money in their accounts to cover the debit transactions.
Banks will Take Advantage
Not surprisingly, more than 30 other banks are or have been involved with similar lawsuits, as banks continue predatory practices for extra revenue from their unwary customers.
According to some attorneys involved in the case, these charges equate to a staggering $4.5 billion in overdraft fees simply missing from customer accounts. Based on those figures, the settlement only accounts for about 10 percent of the payments received.
With the average customer losing about $300 in overdraft fees over the decade, the 10 percent repayment means customers can expect a $27 compensation from the suit.
That amount would not even cover one overdraft fee.
In easily one of the biggest settlements of its type, Bank of America® seems to be getting away scot-free. Laurence Hutt, an attorney for the bank, assured customers wronged in the case that they will receive a minimum of nine percent of the fees they paid. The low percentage reflects that settlements are always a compromise, according to Hutt.
The bank has already deposited the money into an escrow account, but even so, BofA insists they've committed no wrongdoing.
More Disputes to Come
In what is sure to be just a chapter in the story of banks' drastic readjustments in light of the changing economy and regulatory environment, Bank of America® has not been able to get out of the spotlight from its now-defunct debit card fee plan. Even though Wells Fargo planned to test a similar $3 fee, Bank of America® was the one to have to respond to nationwide criticism and finally tossed the idea.
This drawn-out war between customers and bank fees will continue to escalate, as the government, banking executives and the public all try to decide what's best for the future of our banks and their customers.
Ask a Question