Chase Blueprint: Transforming Consumer Behavior
Thanks to Caryn Kaiser who stopped by to talk about Chase Blueprint. Caryn will also be answering any questions asked in the comments section in a follow up article.
If you've ever thought about getting married, having a child, raising a family, or even remodeling your kitchen, you know that financial planning around major life decisions can be daunting. Understanding the many ways consumers think about spending and borrowing during these critical moments and in everyday life is a critical part of financial education.
Chase regularly conducts intensive research to uncover the attitudes and behaviors that shape consumers' borrowing and spending. We have learned that while credit cards are an integral part of Americans' finances, people want more control, simplicity and predictability in managing their finances. This was the major consumer insight that led us to create Chase Blueprint® – a unique set of features that empowers customers to pay off credit card purchases faster, which ultimately saves money on interest.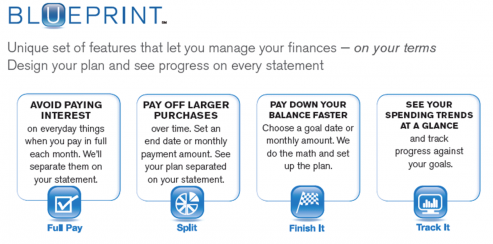 Introduced in 2009, Blueprint helps customers achieve what we have found are four of the most important goals of sound financial planning: always know where you stand, never pay more than you have to, don't borrow without a plan, and keep it simple.
Blueprint changes the way a credit card works and transforms how customers think about spending and borrowing. Traditional credit cards offer consumers two options: either pay in full each month or carry over your balance and accumulate interest. Blueprint gives Chase cardmembers a choice for how to pay down their balances. For example, customers can avoid interest on everyday items, such as gas and groceries, by paying them off in full each month even if they carry a balance on other purchases. In as little as four minutes, a Blueprint customer can also set up a simple plan to pay down major purchases – like a set of new tires or an unexpected trip to the orthodontist – or their entire balance faster, helping to save money on interest.
The results from the first two years of Blueprint are encouraging: Blueprint customers are truly transforming their financial behavior by taking greater control over their personal finances. More than 90 percent of Blueprint customers are paying more than their minimum payments, compared to 40 percent of all American credit cardholders who pay more than their minimum payment. They also tend to be paying down their balances two times faster than non-Blueprint customers. Finally, Blueprint is helping customers establish good spending and budgeting habits: on average 85 percent of Blueprint customers stay committed to their plans.
Chase dedicates significant time to speaking with people all across the country to better understand their everyday spending and borrowing choices. We have found that managing money well leads to positive emotional outcomes – optimism, confidence, and a sense of being "in control." With this information and the success of Blueprint, Chase continues to strive to help customers transform their behaviors – allowing them to take control and be better prepared for all of life's spending and borrowing decisions.
Caryn Kaiser is the general manager of Chase Blueprint, Chase Card Services, a division of JPMorgan Chase & Co. In her role, Caryn oversees Blueprint, a set of features that help customers better manage their spending and borrowing.
Ask a Question