Wall Street Bonuses Down This Year
Keep Wall Street bankers in your prayers tonight — their bonuses are going to drop 20 to 30 percent this year.
According to Dealbook, grabbing a sneak peek at Johnson Associates' annual compensation survey of the industry, Wall Street bonuses will be smaller this year compared to last year, by 20 to 30 percent. The injustice!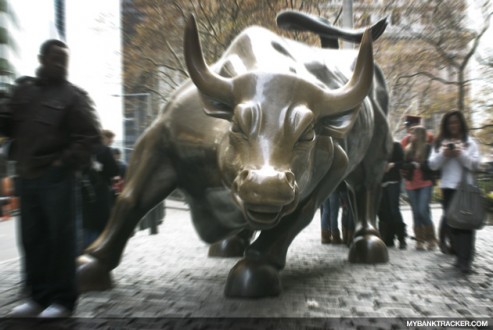 Retail Bankers Will Do Well This Year
Based on a survey of about 20 financial firms, Johnson Associates found that investment bankers as well as equity and bond traders can expect to experience the biggest cuts in their compensation — even executives will feel the crunch, according to Dealbook. Meanwhile, those in commercial banking and asset management will not be making any less than they did last year. These industries are a bit more stable, according to the report.
In fact, Johnson Associates reported that those in retail banking might get a 5 percent "bump" in their bonus packages, compared to 2010. Clearly, some portion of banks' whining about the Dodd Frank Wall Street Reform bill was a bit trumped up. It should also be noted that they chose a good week to all rescind their debit card fees — price gouged customers don't like to see people taking bonuses while complaining about regulators cutting into profits.
Compensation Is a Big Business in Big Business
Though, to be fair to all the hardworking people in finance and banking, they depend on their bonuses, which make up a large portion of their annual compensation. And according to Dealbook, firms dole out up to 60 percent of their revenue in bonuses. We're looking at a lot of capital here. Five of the biggest financial institutions in the United States (Goldman Sachs Bank USA, JPMorgan Chase, Citigroup, Bank of America®, and Morgan Stanely, to be specific) have already put aside $93 billion this year for employee compensation.
Indeed, Wall Street compensation is higher than any other industry in the United States except maybe for entertainment and professional sports. Reporting on the same compensation forecast survey, the Wall Street Journal stated that, on average, a managing director will "[take] home about $900,000, down from about $1.2 million in 2010." And that doesn't include base salary. There goes the third home!
And while there's plenty of schadenfreude to relish in from this story, it does point to a great deal of uncertainty in our economy; while bankers don't always get smaller bonuses when the economy is doing poorly — hedge funds and the like can make money shorting the U.S. economy — when they do get smaller bonuses, we can be sure that the economy is hurting.
Ask a Question