Why Black Friday Is an Ugly Thing
This year the Department of Labor's Occupational Safety and Health Administration issued crowd management guidelines for retailers participating in Black Friday sales events. What, if anything, can we take away from this?
The Occupational Safety and Health Administration, who you may know from their How to Prevent Choking posters, has drawn up and released a list of recommendations for retailers to help prevent "crowd-related injuries" or deaths on the biggest shopping day of the year: Black Friday.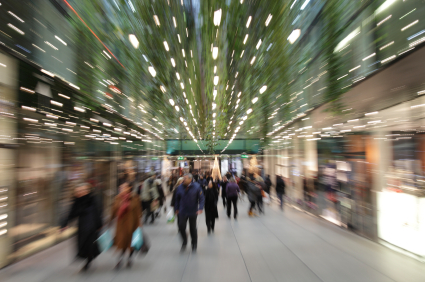 Black Friday Can Be Deadly
In recent years, Black Friday shopping has garnered more than a bit of bad publicity for the violence that breaks out from time to time. In a infamous incident in 1998, a temporary worker at an upstate New York Wal-Mart lost his life in a stampede of bargain-seekers. Try, if you like, to imagine a more meaningless and preventable death than that. And while this 34-year-old man is the only person to have lost his or her life to Black Friday, plenty more people have come close to death, mostly in stampede situations. There have also been isolated incidents of bargain-seeker-on-bargain-seeker violence. At a Florida Wal-Mart last year, a man came to the store doped up on prescription drugs and armed to the teeth, with a handgun, two concealed knives and a pepper spray hand grenade on his person.
OSHA, among other things, recommends designating a worker to call the authorities (if necessary), training workers "in crowd management procedures," creating barricades with "an adequate number of breaks and turns at regular intervals to reduce the risk of customers pushing from the rear and possibly crushing others," and staffing entrances with professional security or uniformed police.
Ah, the holidays!
So while the federal government warns Wal-Mart to militarize their holiday sales, we must also consider the fact that we, as a society, are the reason that this is necessary. Of course, OSHA has a mandate to ensure worker safety and Wal-Mart must protect its employees from harm (and themselves from litigation) — these safety precautions have been made because we don't know how to behave. Not individually, as stampedes can never be blamed on one person, but as a society at large, we are as obsessed with trendy gifts and plasma screens as we are broke and pushy.
And while this violence and mob mentality certainly isn't the norm, it does point to widespread misprioritization of holiday goals.
What Do You Want From the Holidays?
For instance, this year many nationwide chains will be opening at midnight to bring shoppers in earlier, and maybe to prevent deadly tramplings by spreading the savings out over a longer period of time (it also means anyone working in chain retail will be having Thanksgiving lunch if they have one at all). While this is undoubtedly a good thing for employee safety, there is something distinctly sad about the thought of finishing your Thanksgiving feast, saying goodbye to any visitors, and buckling your belt back up to go wait in line in the cold in hopes of catching a bargain at a store that might as well have riot shields and rubber bullets on hand.
Exchanging gifts is an important part of the holiday season, especially for the little ones. But as we get older, and cliches become realer, don't we realize that holidays are really about family? And would you rather ditch your husband or wife or kids with the dishes to rush off to Target, and risk murdering someone to get some cut-rate cashmere? or spend Thanksgiving surrounded by loved ones, passing out at a reasonable hour, your gut plump with turkey, potatoes, and wine?
And isn't there something a bit more fun about last-minute gift shopping? I've never done it any other way. The hustle and bustle of a downtown packed with holiday shoppers and tourists is truly spectacular. And the pressure and subsequent desperation that the looming deadline of Christmas Eve causes can lead to some creative thinking, not always for the best — but aren't bad holiday gifts something of a tradition?
The ugly sweater, the fruitcake, the tins of flavored popcorn and buttery Danish cookies, etc, these things are just as important to the holiday season as "good" gifts like tablet computers and violent video games. The disappointment they bring is a good reminder to the young ones that things are not all that important.
Now I have the liberty of not having children who might hate me if I don't buy them an XBox, so maybe this is easy for me to say. But I'd wonder, as the clock strikes 11 on Thanksgiving, what your grandparents would do, were they put in your position. Would they rush out to the store? No, they'd pass out with CNN blaring from the den, and annoy everyone in the house. And annoying as that may be, no one would get hurt.
And as a final point, let's go with the obvious: you have a computer and the Internet — use them. There's no need to put already sad retail workers in danger when you can find all sorts of deals from the warming glow of your laptop screen.
Ask a Question