Groupon's New Feature Lets You Buy Expired Deals
Groupon, a leader in the daily deals explosion, is combating the mass criticism that their deals are actually harming the growth of small businesses. Groupon's plan? Rolling out a new system to highlight user "tastes" and interests.
With the new feature, which went live yesterday, users can each deal will be tagged with user interests such as "Bring the Kids," "The Finer Things," "Skip Town," and "Sporting Life," among many others. The tags work as a way to match interests of Groupon users to the deals offered by the site. All you would have to do is specify which tags apply to you as a consumer.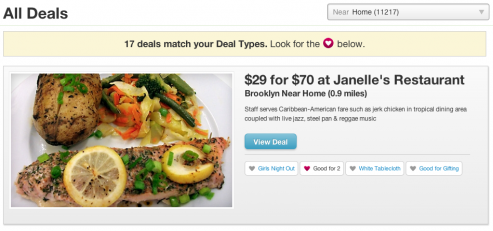 Groupon Caters To Businesses
Everyone knows that Groupon relies on a good relationship with its partners, a.k.a the merchants that offer to accept and run the offers. Unfortunately, the huge startup has been struggling with their business model because small merchants were losing huge profits with one-time visitors just to score a deal.
This new setup could very well create a solution to those types of swoop and save customers. Merchants will be able to see which customers have tagged their deals as an interest and cater to them.
The reason tagging has become an important feature is the opportunity for business to re-offer deals to newsletter subscribers that have shown interest in the deal type. This new feature will allow customers to purchase deals even after they have expired.
Daily Emails Get an Upgrade
One thing that will not change about the deal emails is they will still be offering all the deals typically included, meaning your tagged categories will not filter or omit deals you may not have specified as an interest. This is in order to maintain the opportunity to let serendipitous savings come to the consumer via email.
Although quantity is remaining the same, the quality of design will improve the user experience. The email algorithm will now structure it so that deals users have shown interest in are highlighted in their individual newsletters.
This is a hopeful step in the right direction for the company as they work to improve the relationship between merchants, subscribers and help alleviate financial struggles for both.
Ask a Question