BankSimple Rebrands as Simple, Invites First Customers
The start-up set out be the symbol of innovation in the banking industry has finally begun welcoming non-employee customers.
The BankSimple name has been swapped out, as the young start-up assumes a new name – Simple – at launch.
The start-up embarks on a mission to overhaul the traditional front-end banking experience after the the nation's biggest banks took on a tarnished image for playing a part causing the financial crisis.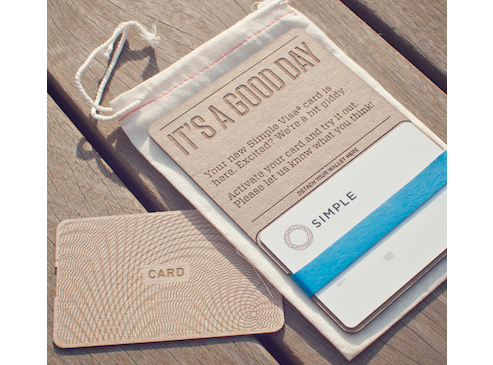 Starting November 8, Simple began inviting non-employee customers to sign up for accounts. The first wave of invitation recipients are asked to provide customer feedback as Simple refines and improves its offerings.
Simple is not a bank. Simple has total control over how customers interact with their money, which is deposited with FDIC-insured The Bancorp Bank and CBW Bank.
The major focus of the company is a great customer experience. Some of Simple's notable goals include live contact with customer support, fee transparency, easy savings goals management, and exclusively designed account interfaces for mobile and web platforms.
The company gave a sneak peek at its online account interface at FinovateFall 2011, a financial technology conference held in September, when it still sported the name "BankSimple".
Simplify the Name
The launch to non-employee customers was expected as Simple said it would do so in 2011 after the company's personnel were first to test the accounts. But, what may have taken the financial tech industry by surprise is the name change and consequent logo change.
As the company isn't a bank, "BankSimple" became just "Simple". The former logo of a stylized wallet was traded in for a geometric pattern.
"Simple is a better representation of what we aspire to. It releases us from the constraints of an industry in desperate need of innovation," wrote Joshua Reich, Simple co-founder and CEO, in an official blog post.
Shedding "bank" from its name relieves the company of being associated with profit-hungry financial institutions in the eyes of Americans.
Ask a Question