Is BofA Broke? Bank to Sell 10B More Shares of CCB
Bank of America® announced it will be selling off 10.4 billion shares of China Construction Bank Corporation. Is the bank short on liquid assets?
Bank of America® (NYSE:BAC) announced on Monday that it will be selling more than 10 billion shares of China Construction Bank, a company in which they formerly owned a ten percent stake. The bank estimates that the sale will net $1.9 billion in after-tax revenue, and it will leave BofA with just one percent stake in CCB common shares.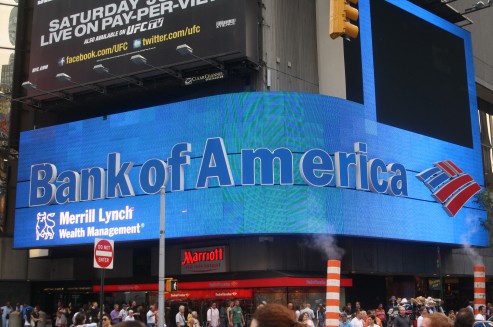 "Our decision to sell the bulk of our remaining shares in China Construction Bank is consistent with our stated objective of continuing to build a strong balance sheet," said CFO Bruce Thompson in his prepared remarks.
This sale seems to suggest that Bank of America®'s balance sheets are suffering more than they'd like to admit. This isn't the first time the bank has made a massive sale of CCB stock this year; back in late August, Bank of America® sold 13.1 billion shares of the CCB — about half of their holdings — and picked up $3.3 billion in after-tax gains.
They acquired their stake in China Construction Bank in 2005, under expansionary CEO Ken Lewis, the same man who acquired Countrywide Financial — a move that has crippled Bank of America®'s balance sheets in the wake of the mortgage crisis. Under Brian Moynihan, current CEO, BofA has been trimming down the breadth of their business, and sold the CCB stock on the first day they were legally allowed to.
The first sale of CCB stock coincided with the news that Bank of America® might need $200 billion in fresh capital to clean up its balance sheet. Between these two sales, the bank has netted a cool $10 billion.
They've still got a bit of work to do — $190 billion worth, maybe — if they want to get their finances in order.
Ask a Question