Capital One: Good Guys or Bad Guys?
If you only look at their rates, Capital One appears to be a good corporate citizen. They offer competitive APYs for both their checking and savings accounts. But they have a dedicated grassroots organization working against them. What gives?
Capital One has a friendly public face. On the sides of buses, you see Jerry Stiller — George Costanza's beloved but wacky father! On TV, they present themselves as the alternative to pillaging hordes of vikings. And in the real world, they offer much better savings and checking APYs than other brick-and-mortar banks.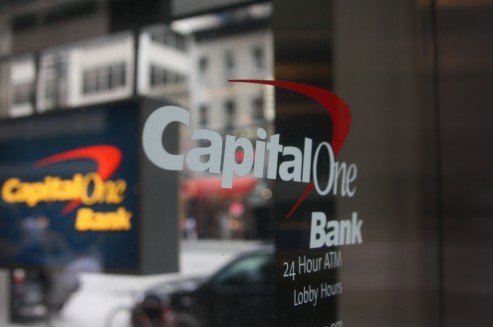 NCRC Has a Bone to Pick
So why is the National Community Reinvestment Coalition out for their heads? The non-profit, which aims to "increase fair & equal access to credit, capital, and banking services/products for low- and moderate-income communities," has it out for Capital One.
The non-profit launched a campaign this year to prevent Capital One from acquiring online bank ING Direct, citing "serious concerns about the impact of the deal on consumers, communities and the economy."
Back in September, NCRC and other community groups expressed their fear that Capital One was only acquiring ING Direct to leverage it into a purchase of HSBC's U.S. credit card business. NCRC worried that by acquiring ING Direct, Capital One would fall into the "too-big-to-fail" category, and only expand its credit card business and their subprime auto loan business, both of which NCRC considers predatory.
In a report titled "Capital One's House of Cards," NCRC laments that about two-thirds of Capital One's revenue comes from their credit card business, and three-quarters of that gets bundled into asset-backed securities, and sold on secondary markets. "Sound familiar?" the report quips, "We all know how that story ended," referring to the subprime mortgage collapse.
In a separate report that details Capital One's last half-decade of expansion, NCRC shows how the bank has curtailed community development lending at all the smaller banks it has purchased. North Fork Bank, The Long Island Bank purchased by Capital One in 2008, has seen its community lending drop by 95 percent since the acquisition. For Chevy Chase Bank, in the Washington D.C. area, that number has declined by 41 percent.
Furthermore, NCRC claims that Capital One is discriminatory in their lending practices, and fails to meet convenience and needs standards, nor does it serve the needs of small businesses well. It aims to expand by lending only through credit cards and auto loans, and avoids its Community Reinvestment Act duties in the process, according to the NCRC.
Want to Halt HSBC Credit Acquisition
So it should come as no surprise that the NCRC has recently written a letter to the Office of the Comptroller of the Currency, asking them extend the public comment period on Capital One's proposed purchase of HSBC's credit card business. They fear the bank would become "too-big-to-fail" and that it would continue to grow on its predatory lending practices.
"There must be a thorough investigation of Capital One's practices to determine if they will be continued, reformed, or exacerbated by the proposed purchase," reads the letter, which was cosigned by several other community groups.
So while Capital One might offer you more bang for your buck, there's a litany of complaints against them from one non-profit, who claim that Capital One acts a lot like the way the bank portrays their competitors on television ads — a pillaging horde of brutes who take from the communities they enter, and add nothing in exchange.
But all big banks now have skeletons in their closet — plenty of subprime lending, asset-backed securities, and aggressive acquisitions to run away from. So is Capital One any worse than the others, despite offering more competitive retail banking products? Or should any bank attempting to expand through these strategies be stopped, regardless of their size?
And as a consumer who could take advantage of Capital One's rates, should you care about other parts of their business? Do you need to worry about what sorts of loans your deposits are turned into? There are few easy answers here, but the questions are worth considering.
Ask a Question