Ally Bank Survey Shocker: Customers Dislike Fees
Ally Bank conducted a survey asking respondents how they feel about banking fees. Perhaps not surprisingly, they discovered that people don't like fees for services they typically enjoy for free.
Ally interviewed about 1,000 Americans over the age of 18 to find out how they felt about banking fees, and if they had a good sense of how much they spend in banking fees. Ally discovered that, by and large, fees are unpopular and that people have no clue how much they spend on ATM fees.
Banking Fees: Unpopular
Fees for checking were the most unpopular one that Ally encountered: 84 percent of those surveyed said that they found checking fees unacceptable; 79 percent don't think monthly maintenance fees are OK; and 77 percent disagree with ATM fees. Who is this 16-23 percent of America who likes fees?
Furthermore, most customers think that ATMs ought to be free, within network or without. 56 percent of those surveyed stated that $0 is a "fair" ATM fee. According to Ally's press release, the average ATM fee is $3 for out-of-network customers — technically speaking, this is infinitely higher than what most people think the fairest ATM fee is.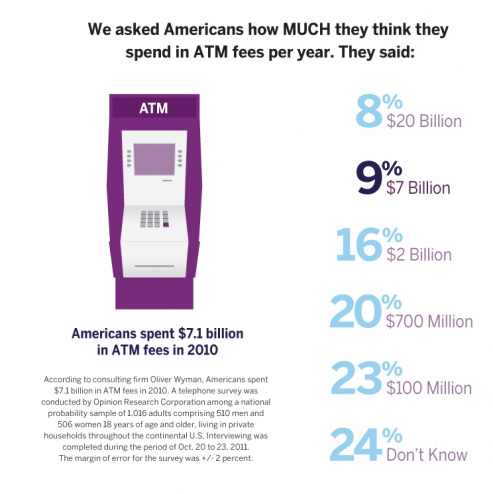 $7B in ATM Fees a Year
And despite this frustration with ATM fees, very few customers have a sense of how much Americans pay in those very same fees every year. According to a study by Oliver Wyman consulting, Americans spend $7 billion a year on ATM fees. Ally asked its respondents to guess that figure, and more than half underestimated by a long shot. Only 9 percent guessed $7 billion, while 23 percent thought the number was $100 million (a silly guess in some regards — there are 307 million people in America, and even if you assume that only about 200 million use ATMs, that would mean they spent only 50 cents a year on the fees).
Excluding the 20% of Americans who are under 14 years of age, and the 30 million who are un- or underbanked, we can estimate that 210 million Americans use ATMs regularly (though in all likelihood this number is a bit high), which means that Americans spend about $33 a year on ATM fees, on average. Consider the fact that a $60 annual fee on debit card use led to a massive public outcry — if we knew we were spending this much on ATM fees, would we put up with it? Especially given that most banks charge their own fees on top of third-party ATM fees, punishing you twice for needing cash when your bank was nowhere to be found?
In their report, Ally was thrilled to point out that they reimburse customers for ATM fees they incur, as the online bank has no network of ATMs to provide their customers. Online banks have low overhead, and this can work in your favor.
Ask a Question