Fake BofA Google Plus Page Trashes Bank
Perhaps Bank of America® is too busy selling shares and settling overdraft fees and they simply don't have the time to deal with a fake Google Plus business page deriding their business practices.
Updated 2:30 PM: Approximately one hour after this story was published, Google pulled the fake page.
On November 8, just one day after Google Plus allowed brands and companies to have dedicated pages and Bank of America® (NYSE: BAC) settled a case concerning overdraft fees, some prankster "brandjacked" BofA's page and denigrated them for their high foreclosure rate and seeming indifference to the average American's situation.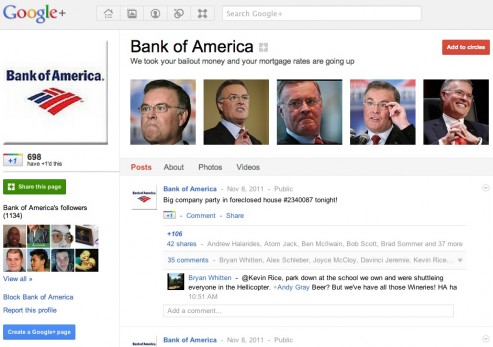 Throwing former CEO Kenneth Lewis into the spotlight, the blog displays unflattering pictures of the man who helped the bank acquire Merrill Lynch and then retired with hundreds of millions of dollars just as the financial crisis hit.
Popularity of Parodies
Posts on the page broadcast how the bankers are supposedly using your money. They also ridicule the OWS protesters including one post that states: "Looking down on Zuccotti Park with a glass of Bordeaux. The betting pool on protester arrests is getting pretty interesting."
The shenanigans have caused many in the blogosphere to be concerned about the privacy and legitimacy of Google Plus Pages, since the counterfeit page has been up for a full week already.
However it already has 1,100 followers and almost 700 Google +1's while the (allegedly) real BofA page looks like something the bank put up because they had to. The page features nothing but a low resolution logo and has garnered just over 40 followers, a number which only accounts for .01 percent of their employees.
So far neither the bank nor Google has done anything to remove the site and BofA has yet to address this mischief.
Do Google+ Pages Matter?
The only account activity on the fake site occurred on November 8, but is entirely benign to users even though it trashes the bank. There doesn't appear to be malware or bad links. Nevertheless, some worry that this huge oversight in Google's surveillance over their site could result in more malicious users taking advantage of the new space for businesses.
The same thing happened on Twitter when fake celebrity accounts began popping up like dandelions. But should we be worried about this happening on Google Plus? Will fake bank pages create new routes for identity thieves into your account?
To answer that question, we must first determine what purpose these pages serve. While they may someday be effectively used to break company news and connect to users' accounts where applicable, no one will access personal information (financial or otherwise) just yet.
People with a Google+ account are well informed of the dangers of social networking and are unlikely to click on spam featured in a clearly fake blog. We've reached a point where there are no people savvy enough to find the page but inexperienced enough to not know it is fake.
Despite Google's ubiquity, personal banking will not spread to this venue just yet. If someone wants to do any official banking, they will sign straight into their account.
Ask a Question