NYPD Raid Zuccotti Park, Evict Occupiers
The NYPD raided Zuccotti Park, headquarters of Occupy Wall Street, early this morning, arresting scores of protesters and clearing the park of its encampment.
Occupy Wall Street suffered a crippling and/or invigorating blow starting at one o'clock this morning, as Mayor Bloomberg ordered NYPD to clear Zuccotti Park of the protesters, citing public health concerns.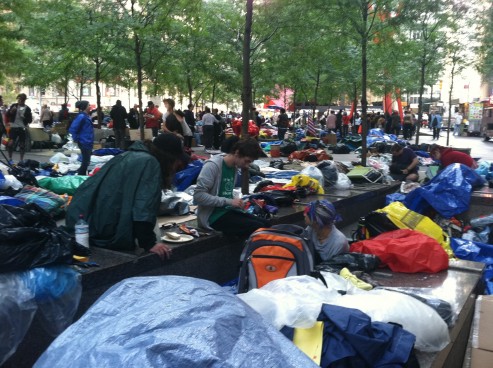 Mayor Cites Safety Concerns
"I have become increasingly concerned — as had the park's owner, Brookfield Properties — that the occupation was coming to pose a health and fire safety hazard to the protesters and to the surrounding community," said the mayor in a prepared statement released this morning. The park has been cleaned and protesters will be allowed to return, but Bloomberg made it clear that he wants no more encampments, tents, or occupation.
"Protesters…are welcome [to Zuccotti] to exercise their First Amendment rights, and otherwise enjoy the park, but will not be allowed to use tents, sleeping bags, or tarps," said the mayor in the same statement.
According to the New York Times, NYPD arrested almost 200 people in the raid, and barricaded many surrounding streets to prevent protesters from entering the park from outside, to defend the space. Some reports claim that the police used tear gas and mace to disperse protesters.
Cops Destroyed Books
Occupy Wall Street's Stephen Boyer wrote an emotional account of the night's events on the People's Library blog, stating that the NYPD put literally everything that was in the park into dumpsters: including the 5,000 books that made up the People's Library, a collective, donated library of reading materials created by the protesters. This has sparked a great deal of outrage online — destruction of reading materials by the government has few good precedents.
Possible Stalemate?
And while Tuesday brought a lot of terrible news for the movement — 5,000 books, trashed! — WNYC reports that a judge has "issued a temporary restraining order," which states that the city can't "keep protesters and their belongings out of the park."
But Bloomberg's police force are currently holding their ground, according to The Atlantic Wire, keeping a barricade up around the park, and arresting anyone attempting to breach the line.
Perhaps occupiers will retake the park, and perhaps they will not. They are, however, back at the top of the news cycle, and that's good news for anyone sympathetic to the movement. Moving into the winter, Occupy Wall Street might have simply fizzled out due to inclement weather — if the past two winters serve as indicators, there will likely be a nasty blizzard some time in December or January. Now, having been stripped of access to the park — maybe — they can focus on less grueling ways to advance their agenda, which has been somewhat bogged down by the more immediate goal of keeping their encampment in the park.
Ask a Question