Federal Government Shuts Down 85 Online Mortgage Schemes
The federal government is cracking down on fraudulent mortgage modification companies, this time taking down dozens of unnamed scams that have advertised their services on web banners and advertisements littered across the internet.
The office of the Special Inspector General for the Troubled Asset Relief Program—SIGTARP for short—announced it had shut down 85 online mortgage modification programs this week as part of an ongoing investigation into fraudulent mortgage modification schemes. As part of the investigation, Google Inc. has agreed to cooperate with the office by temporarily cutting ties with over 500 advertisers and agents SIGTARP believes may have worked with the 85 mortgage modification companies in question.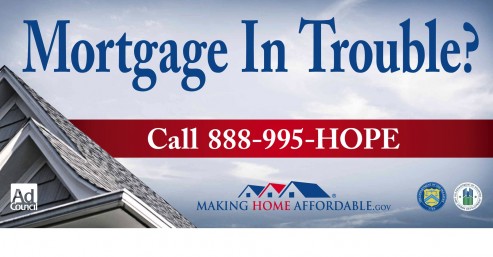 According to a Wednesday statement, the fraudulent companies used advertisements placed by Google to promote schemes seeking upfront fees for mortgage modification services. The advertisements also advised mortgage holders to cease both payments and communication with their respective lenders, and instead to pass along mortgage payments, property deeds and other personal information to the fake mortgage modifiers.
Schemers Posing As Agents of Government's Mortgage Modification Efforts
SIGTARP's statement indicated that the fraudulent companies have billed themselves as agents of the federal government's Home Affordable Modification Program (HAMP)—a program established through the Financial Stability Act of 2009. The program essentially helps homeowners struggling with their mortgages by lowering monthly payments to 31 percent of a borrower's verified monthly gross (pre-tax) income so that their monthly mortgage payments are more affordable.
Information from MakingHomeAffordable.gov—the program that runs the HAMP initiative—indicated that participation in the mortgage modification program often results in as much as a 40 percent drop in monthly mortgage payments However, the program did come under fire earlier this year when the U.S. Treasury Department released figures indicating that just one-fourth of those that entered the program were able to successfully get their monthly mortgage payments reduced, or just 680,000 of the 2.7 million participants.
Never An Upfront Fee
If you're a struggling homeowner and are considering applying for relief through the mortgage modification program, then it's important to understand what you're responsible for paying. A legitimate mortgage modification company will never charge you an upfront fee, and will give you the option of adding any costs associated with the mortgage modification to the total amount you owe on your mortgage. You'll also never be charged a counseling fee and, unfortunately, a program won't guarantee they can prevent the foreclosure process.
To learn more about how fraudulent mortgage modification companies work or to report a scam visit Loanscamalert.org's website.
Ask a Question