Community Bank Group to Occupy Times Square Jumbotron
An association of community banks will take a spot in the sea of billboards and digital screens in one of the busiest spots in New York City: Times Square.
Everyday Americans are not the only ones keeping the wheels turning in the fight against "fat cat" bankers; smaller players in the banking industry are fueling the Occupy Wall Street protest as well.
As part of an anti-mega-bank campaign, the Independent Community Banks of America (ICBA) will be making a regular appearance on the CBS Spectacular screen in Times Square, New York City – four miles from Wall Street – during the holiday season.
To be played every hour, the message will tell 1.8 million daily passersby to stick it to their banks by switching to a local community bank.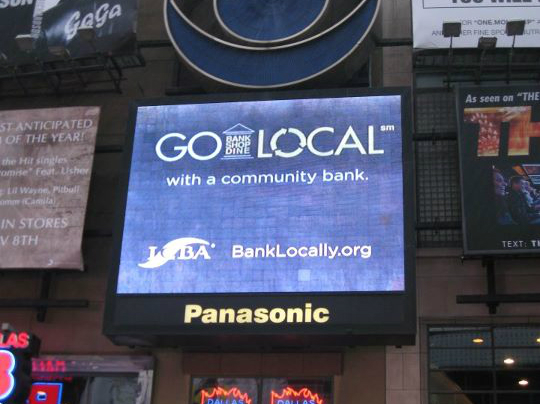 "ICBA's goal in producing the Jumbotron messaging is to capture consumers' attention in a spectacular forum like Times Square and remind them that they have a choice when it comes to their banking relationship," said Chris Lorence, ICBA executive vice president and chief marketing officer, in a press release.
"If they want to do something about bad banking, they can go local with their community bank and keep their hard earned money at home where they live, work and worship."
The ICBA is made up of 5,000 community banks of the 7,000 scattered throughout the United States.
On Bank Transfer Day, and in the weeks leading up to it, consumers were encouraged to close their accounts at commercial banks and move their money to not-for-profit credit unions. While some departing customers may have transferred to community banks, these smaller banks didn't receive as much of a mention.
So, the community bank association opted to gain some attention by putting its message among hundreds of other bright-lit contraptions in Times Square, which frequented by tourists, shoppers, workers, and residents.
The CBS Spectacular Jumbotron will feature the ICBA's message until January 1, 2012, after thousands of people have filled the streets to watch the New Year's Eve Ball Drop.
Ask a Question