Tablets Hasten Evolution of Online Banking
Websites like Mint.com revolutionized the concept of personal financial management (PFM), so people started getting smarter with their spending. Now banks need to get smarter with how they approach PFM.
This is why Yodlee, Inc., a leading provider of online PFM solutions, produced a webinar along with Celent and Citi to explain how banks can (and must) use PFM tools to increase customer engagement and satisfaction.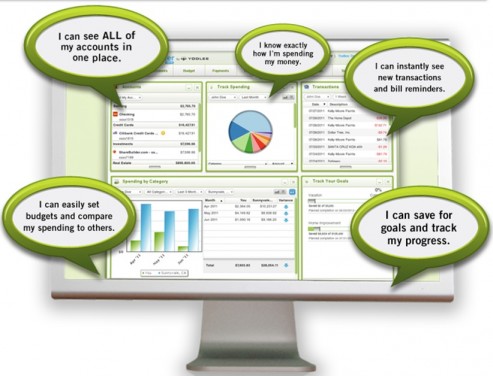 Citi (NYSE: C) shared insights about the successes of their own PFM strategy and Yodlee discussed its ever-evolving FinApps. But Jacob Jegher, a senior analyst for Celent opened the webinar with compelling analysis of the emerging PFM space. His main argument revolved around the fact that mobile banking, in general, hasn't really evolved past the first phase, the Bolt-on Phase.
The Phases of Mobile Banking
"Bolt-on" is exactly what it sounds like. When banks introduce a new banking channel or system, they have to integrate it into their existing system. This began with online banking but has expanded to include mobile banking and now PFM.
The problem is banks often just "bolt it on," making it feel disjointed and sometimes like a new system altogether.
Phase two, which Jegher calls "the frame," is not much more advanced. It means the bank will frame the PFM as an integrated system with the bank's logo and colors, but it will still feel like a separate tool.
That brought him to the final phase. This is the phase that consumers want and banks need to offer if they what to stay competitive with other banks as well as budgeting tools such as Mint. Phase three, the PFM phase accomplishes the goal of empowering and educating the consumer.
Online Banking = PFM
Banks, such as Citi, which presented its own adoption of this phase, need to integrate PFM into their actual website, making it feel as natural as viewing an accounts summary.
One the real example they showed; Citi had a new financial tools section on the bottom right of the account page. This included allocating all the money spent on the account into categories, with the amounts and corresponding percentages matching to rent, restaurants, travel and other.
However, "mass-market PFM has a bunch of hurdles to overcome because of the drastically different situations of the users," Jegher said. "Financial institutions need to consider the neurotic, the wealthy, the hopelessly-in-debt." (While dollar amounts definitely impact which types of tools a customer needs, their real-life habits will impact their needs as well.)
Tablet-banking is the Future
The explosion of technology and parallel rise of mobile banking solutions have caused a sort of separation between online and mobile banking.
Until the tablet came along.
Jegher wonders, "Is banking on a tablet considered online banking or mobile banking? The answer is both and neither." This rhetorical question really frames his entire argument. Tablets will have a tremendous impact on consumer, business and corporate banking.
Due to their hybrid nature, tablets will drastically change the way we bank, bringing the "app" into mainstream banking. Suddenly, online banking and mobile banking no longer seem adequate or even advanced on their own.
Mobile banking will be on-the-fly and online banking has to graduate to PFM. This leaves a huge space for tablet banking. As Citibank showed with their dedicated app, tablets have the tremendous potential to merge OLB and PFM.
With this brand new device, banks have the opportunity to create an entirely new type of system. Apps with remote deposit, P2P payments, real-time geo-located offers; it goes so much further than regular online banking. We just need to see how the banks concurrently evolve their online system.
Ask a Question