Black Friday: Get the Most Savings, Not the Hottest Deals
Dismiss the lofty goal of picking up the best deals for every item on your checklist because it most likely won't happen.
Say there are ten items on your shopping list. Lately, you've been seeing discounts here and there for those items. But, the lingering hope of amazing deals on Black Friday keeps you from locking in those savings now.
Bad move.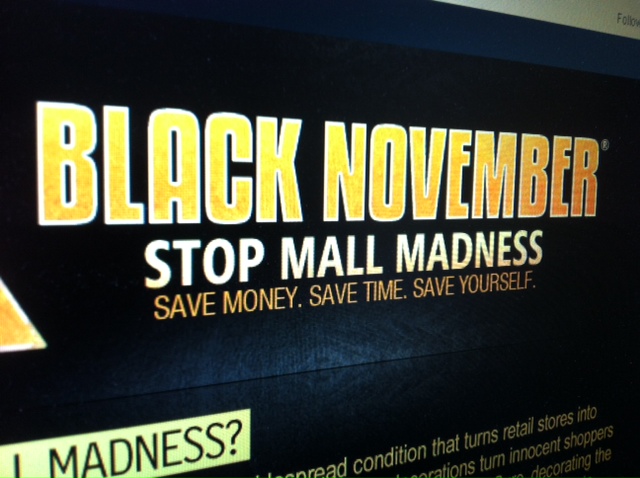 By picking up discounts as they come, you will be getting substantial savings without having to brave a post-feast food coma, battle chilly weather, or learning to master bladder control while waiting in a crowded lines on the big day.
Instead, take an approach that involves less effort.
Here's the blueprint that ensures satisfying discounts in this hectic shopping week:
1. Shop online.
An annual holiday survey by Deloitte found that 48% of consumers will shop online for gifts this year. Many of them would also visit a store in person but the obvious advantage of online shopping is having the merchandise come to you rather than you traveling to get it.
It's likely that there will be items in multiple stores on the shopping list. By making some of those purchases online, time and energy is saved from not having to run around from store to store.
Perhaps, online shopping will dismisses the possible perils of Black Friday madness.
2. Grab the discounts as they come.
Retailers are no longer marketing for Black Friday alone. Knowing that consumers tend to have a loosened grip on their wallets in the weeks leading to the shopping holiday, stores begin offering sales once November comes along.
Popular online electronics retailer Newegg has been holding promotions throughout the month – deeming it "Black November". For years to come, retailers are likely to begin building hype for the shopping holiday in the weeks before it arrives.
As Black Friday draws even close, stores are running countdown deals leading up to the big day. Currently, Best Buy is utilizing this tactic as consumers become increasingly aware of the sales.
If a chunky discount is available for an item on your shopping list, lock it in.
A shopper might think, "But, I might get a better deal on Black Friday." That probably won't be the case.
An item that goes on sale prior to Black Friday is unlikely to go on sale again, especially if supply is drained significantly.
So, collecting significant discounts on a basket of items may end in greater savings than just scooping up the absolute best deal on a few items.
3. Keep Friday shopping to non-specific items.
Many in-store Black Friday deals are ideal if you are on the market for an item of a particular category, not a specific model. Ads may already allude to the exact models that will be on sale but there is no guarantee it'll be in stock when you get into the store.
For example, HDTVs, media players, and clothing are items on which shoppers can keep an open mind when seeking discounts.
The art may well lie in the ability to keep an open mind without turning into an impulsive shopper.
Will you be saving your shopping for Black Friday and Cyber Monday only? Or have you been making purchases through the month?
Ask a Question