Foreclosure Mill Closes Because of Halloween Party Photos
A New York foreclosure law firm that had a good laugh at the expense of foreclosure victims at a Halloween party have been forced to close their doors. Hooray for comeuppance!
Steven J. Baum P.C., a 90-person law firm that specialized in representing banks in foreclosure proceedings, announced Monday that they would be helping banks foreclose on homeowners no more. The firm has been experiencing legal troubles of their own stemming from the unscrupulous fashion with which they conducted their business. Baum's business is what is frequently referred to as a "foreclosure mill" — a law firm that brings factory-like efficiency to a brutal legal procedure, often sidestepping the ethics and laws in the process.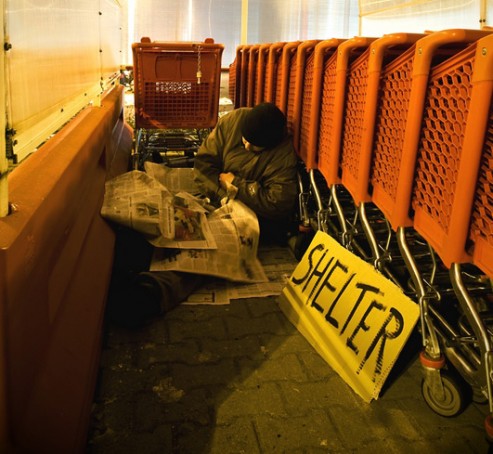 But, believe it or not, this is not exactly why the firm is going out of business.
Baum's law firm has experienced a deluge of terrible press this fall, after New York Times business columnist Joe Nocera published photos of a 2010 Halloween party at the firm that showed their employees dressed up as squatters and homeless people. One part of the office was designed to look like a row of foreclosed homes. Employees made signs that said "Will Worke [sic] For Food" and generally made light of foreclosure victims' poverty.
Nocera used his column space to show that, perhaps, Steven J. Baum P.C.'s attitude towards the victims of the mortgage crisis, reflected in the way they celebrated Halloween, might affect the way they conduct their business. It's hard logic to argue with. The firm is, after all, being investigated for their unethical practices.
After this column came out, reports Dealbook, both Fannie Mae and Freddie Mac "[forbade] services of their mortgages from using Mr. Baum and his colleagues. That effectively served as the firm's death knell." The two government-back lenders own or insure about half of all mortgages in the United States.
It's incredible and maybe a bit unsettling how quickly the photos have been able to put the firm out of business, when compared to the legal complaints against the firm. Whether it speaks to the power of photography or the weakness of consumer protections, or both, it's not immediately clear. But one thing is for sure: New York state is better off without Steven Baum in business.
Ask a Question