Is the Economy Improving? Check Your Closet
There are some bizarre economic indicators, and this one is no exception. According to historical trends, the higher the women's shoe, the worse the economy.
We've heard it all here at MyBankTracker.com, hemlines, the lipstick index and even a hot waitress indicator have all graced the pages of our website. And now, heels can be added to the list of bizzarre economic indicators.
Higher Heels Present Economic Weakness
Trends spotted among retailers, designers and journalist show as women's shoe-fashion moves towards higher and flashier heels, the economy typically struggles. As the Christian Science Monitor points out, you can see the trends in women's footwear match up with economic peaks and valleys:
In the 1920s the boyish flapper look gave way to higher heels during the Great Depression.
The 1960s were full of sandals and bear feet as individuals embraced earthy, styles which soon changed to high platforms and boots during the 1970s — one of the worst decades for the country since the great depression, although there was no technical depressions.
One of the more recent indicators is the stiletto boom of the 2000s, closely tied to the dot-com bubble burst.
The last example begs the question of whether or not life imitates art. In this case it would be whether or not economy imitates art; meaning, in the 1990s fashioned embodied the grunge era, no heels in sight, but as Sex and City became the fashionista's guide to glamour, more women held themselves to higher…heels. If you think about it, this theory makes sense.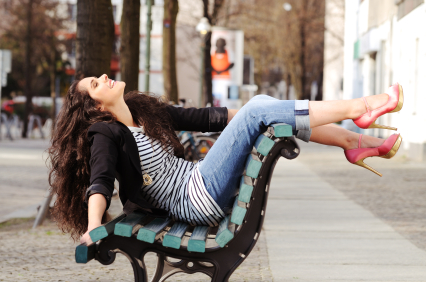 Theory Behind the Trend
Just like other economic trends revolving around women's fashion this plays on the confidence of women. According to trends spotted by Leonard Lauder, chairman of the bored of Estee Lauder — a manufacturer of skincare and other beauty products — lipstick sales increased during the 2000 economic recession. Lauder believes this could be tied to women attempting to make up for the inability to afford expensive accessories by investing in other ways to enhance their appearance a.k.a lipstick.
Similarly, women are turning to higher heels not only boost their height, but boost their self esteem when the economy is on the outs. So, what's the trend now?
It's looking like good news for those fretting about the economy. According to 2012 runway trends it looks like the sky-high heels are being replaced with shorter ones, and the kitten heel is making a comeback.
Ask a Question