A Giftly This Holiday May Mean Groceries for the Week
Holiday season has arrived and the NRF expects an explosion of gift cards this year with at least 50 percent of Americans sending and receiving them. The $100 billion industry will definitely receive some help from a mobile push.
Most Americans have bought gift cards and are familiar with the feeling of receiving them. Of course there's nothing like getting a gift you really wanted, but the lows are so low when you get something you have no use for, especially on holidays. Faced with the wrong gift, you can either spend a whole day returning it with 100 other people, or risk regifting.
Receiving a gift card is exactly the happy medium. Classier than cash and a relief when considering you could have gotten another set of bath salts or a book on the rhizome.
Importance of "Going Mobile"
With the movement we have seen toward mobile payment solutions, especially with the advent of the tablet, the National Retail Federation reported that half the smartphone owners would use their mobile device to help them with their holiday shopping. A staggering seven (or eight depending on the source) out of ten tablet owners plan to utilize their bigger toy.
Some will redeem mobile coupons while slightly fewer will actually purchase items on either device. Nevertheless, mobile shopping continues to evolve into a legitimate avenue most notably because of sites like Giftly.com and other online mobile gift card sites.
How it Works
A "Giftly" is basically a gift card, but without the card. And without the restrictions either. You can deliver one to a friend that you have designed and designated to work at up to three different places. The friend goes into the store, checks in on his mobile device, pays as usual and the activated gift card is credited to the linked account.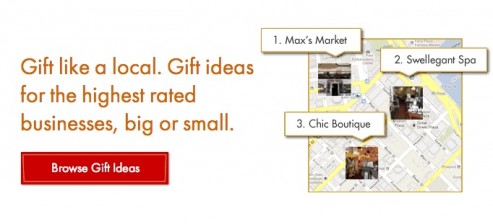 Brilliant in theory, and exactly the type of gift consistent with the American culture. The gift card becomes more and less personal simultaneously.
Since the stores don't even know that he has the Giftly (no need to tell them; Giftly holds the value of the gift card until activated), it doesn't even have to be used in any of the intended stores. Technically, your friend can activate it whenever he wants.
While the Giftly can be assigned to set locations, which, according to the website, is intended for the purpose of trying out local places, if you are struggling with the electric bill, you can just forget about the new sushi place and use it for that.
Why it Works
The reason why a Giftly is so sweet is because it puts class back into cash. It's essentially a dolled up wire transfer with a bow on top. As the economy plummets, people want more liquid gifts. Gift cards restrict you to one brand; Giftlys don't even restrict you to items.
Mobile devices must play a large role in this Giftly platform because even though you have to provide your card, your friend's gift will (hopefully) cover the cost. If you don't have a smartphone and have to wait until you get home, the significance of his benevolence is nearly lost.
A reimbursement produces hardly the same effect.
What's Next?
On this note, I think the next step would involve the actual stores on a deeper level. If the stores knew when Giftly was using them to promote their services, they may advertise discounts for Giftly credits or specials. This would incentivize picking their stores when you deliver a Giftly.
This would be yet another offshoot of the Groupon movement ripping through businesses worldwide. And yet another proof that mobile solutions are the future.
Ask a Question