Want a Movenbank Account? You'll Need Facebook
The ubiquity of Facebook makes it the go-to channel for connecting with family and friends but a stop sign emerges when a bank is thrown into the mix.
Facebook accounts carry a wealth of information; every friend, status update, wall post, and "Like" serve to form a personal profile. It's no wonder businesses are eager to get their hands on this valuable marketing information.
As Movenbank, a startup aiming to revolutionize banking, began requiring its first members to register and log in with their Facebook accounts, privacy became a concern.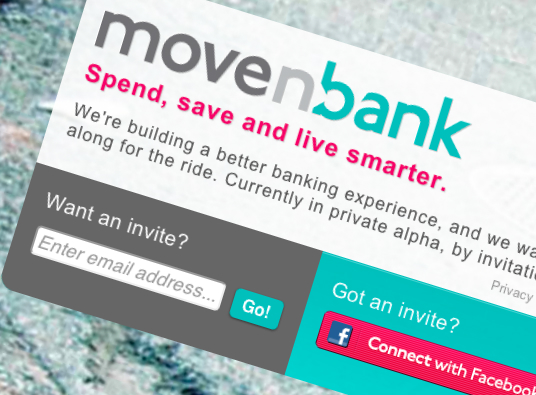 Having just launched its alpha site on October 1, Movenbank embarked on a mission to transform banking by introducing social, gamified customer engagement into a relatively unimaginative banking industry.
Like Simple and PerkStreet Financial — other companies looking to outshine traditional banks — Movenbank wields full control over the front-end experience while deposits are safeguarded by partnering banks.
From a technological perspective, Movenbank is focusing on the online and mobile interface with plans turn smartphones into essential financial tools through digital engagement, near field communications (NFC), and person-to-person capabilities.
How Movenbank and Facebook Mix
In a recent blog post, Movenbank said that voluntarily shared information in the Facebook profile's "Info" screen is up for grabs.
The data is used to determine a customer's "financial personality", connect with friends who are Movenbank users, and contribute to the calculation of one's creditworthiness.
"We'd love to be able to refer to you by your name instead of your email, we'd like to know where you live so we can see if there is location-based advice we can provide you with, and we're curious about who your friends are because they are an important part of who you are," the blog post stated.
Additionally, it will help Movenbank identify the financial products and guidance that is most relevant — coming out of the playbook of every advertising agency in existence.
In general, Facebook incorporates social media into banking. And it doesn't stop there, Movenbank expects to other popular social media channels such as Twitter and LinkedIn in the future.
User Adoption Is Key
Quite understandably, Movenbank won't share data with external parties, make a wall post, or spam a customer's Facebook friends. But, it is a rather novel idea to have a Facebook profile impact one's banking habits.
Many consumers prefer to be secretive with their finances and far away from something as public as a social media account.
Currently, big banks and popular online banks have not stepped into the realm that Movenbank is pioneering. Presence by these banks in the social media arena come in the form of brand messaging and customer support.
If the entire banking industry decided to follow in footsteps of Movenbank, the line between banking and social media could fade — but only if consumers let it.
Ask a Question