What $28.8 Million Can Buy Instead of this Stupid Estate
I don't think I can count to 28.8 million let alone fork over that much money for 4.7 acres of land and a 8000 sq. ft. home. In order to truly understand how much $28.8 million is I converted into expenses I understand.
If you are by chance looking to buy some property in the Hampton's this home does seem to have it all. According to Curbed.com this 7-bedroom estate was renovated in 2007 and is no stranger to the spotlight. A popular place to host garden tours, fundraisers and featured in multiple magazines the Bridgehampton Country Estate even has a heated pool — of course.
I wanted to convert this price tag into more common expenses, below are the results:
Thinking of getting a car? Why not 733 of them?
Doing a simple google search for "Most popular cars 2011" brought me to a top 50 list. I chose to go with the 2011 Honda CR-V, an affordable and durable car. According to my simple math, I could by 733 of this kind of car at full market price instead of paying for one home.
If you don't mind being flashy, you can always just buy 506 2011 Mercedes-Benz E-class 2dr Cabriolet 3.5L RWD convertibles.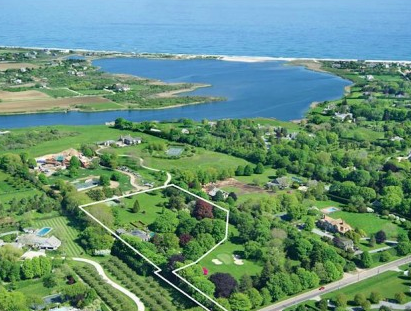 Groceries for life and then some!
Have you heard of the Duggar family? You know the crazy ones on TLC's 20 Kids and Counting, well they could definitely take advantage of using this money. In a Today Show appearance they were quoted as spending a mere $3,000 a month on groceries, because they are good at budgeting. Well, if the Duggar's were to use the money from this Estate, they could cover groceries for their family and 9 others for the next 80 years.
The average person spends around $300 a month on groceries according to the Bureau of Labor Statistics, so this money could feed 100 people for 80 years…not bad.
This money could buy the entire population of New York a venti Starbucks coffee.
You Could Rent Over 400 Virgin America Planes
Earlier this week we covered an offer from Gilt.com and Virgin America to rent your very own plane. At only $60,000 you get to rent your very own roundtrip plane ride, name the plane and bring 145 friends!
With this money, you could rent and name 480 Virgin America planes.
Let's Talk Property
Okay, so I guess shelter is a pretty important purchase, but this one takes the cake. A mortgage calculator shows that if you were to take out a 30-Year Mortgage with a $23,040,000 million loan and a 4% APR on this home, you would be paying;
Amount Financed: $5,760,000.00
Monthly payments would come in $56,059.12
It would all be paid off by Oct. 2041
The monthly payments for this estate are nearly $20,000 more than the average yearly salary. Needless to say the money needed to cover this exorbitant price could go towards many efficient and better causes.
Ask a Question