Slash Your Credit Card Processing Fees With FeeFighters
Small businesses are expected to shell out upwards of $340 million in credit card processing fees this holiday season. If you're a small business owner looking to save some cash then one start up is offering you a solution.
The statistic was gleaned from a recent survey from FeeFighters, a startup that offers cost comparison tools for small businesses to help them slash their credit card processing fees by as much as 40 percent.
What makes it hard for small businesses to keep their credit card processing costs down is that, unlike big box retailers, they don't have the ability to negotiate the credit card processing fees they pay issuers. And, with more and more retailers poised to bring in the cash during the holiday season, FeeFighters is looking to make sure that small businesses keep as much of their cash as possible.
To better put the amount of fees small businesses will pay into perspective, here are some things with costs in the general ballpark of FeeFighters' card processing costs estimates, gleaned from the company's blog:
$333 million: The expected total U.S. foreign aid to Mexico in 2012
$340 million: The total amount in the Swiss bank account of deposed Egyptian dictator's son
$400 million: The total amount of SBA loans doled out to small businesses in June of last year.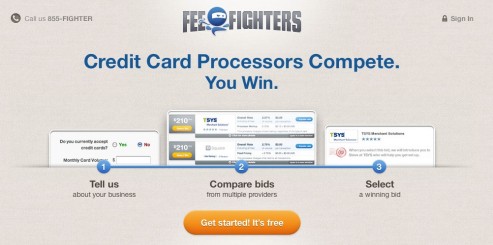 The company made its debut earlier this year at the FinovateFall 2011 conference and was one of several to take home the Best of Show award. Its services are offered free of charge, and allows small business to conduct auctions that pit some of the largest credit card issuers against each other for your business. According to its website, merchants can save upwards of 40% on credit card processing fees through FreeFighters.
Credit Card Issuers Vie For Your Business
As described on FeeFighters' website, the service works in three different steps. First, you'll need to tell it a little bit about what your business—the volume of credit card transactions processed per month, the average transaction size and other information relevant to your company's business.
After that, you'll then have the opportunity to compare bids from a number of credit card issuers through an online auction process. This involves signing up for an account and providing additional details about your business. Based on your business's specific profile, you'll then have the ability to evaluate of bids based on fee estimates and changes in the amounts credit card issuers have charged over time. Members can also ask direct questions to bidders online during the auction and view contracts.
The final obvious step involves choosing a credit card network. If you're a small business or merchant that accepts credit cards then you'll definitely want to take advantage of this service, especially when you consider that they pay almost twice the amount in interchange fees that their larger counterparts do. Head to FeeFighter's website for a virtual tour of the service or to sign up.
Ask a Question