Manhattan DA's Office Shuts Down Million Dollar Fraudulent Check Scheme
Manhattan law enforcement officials successfully busted a check fraud scheme involving almost 100 individuals and costing TD Bank more than $1 million.
The New York County District Attorney's office in Manhattan announced on Wednesday that it had indicted 94 individuals for their part in a fraudulent check scheme involving more than 90 checking accounts at TD Bank locations in New York. The charges being brought against the perps in question include grand larceny and conspiracy in the fourth degree.
The scheme involved a handful of high-level bosses and an even larger team of low-level recruits who were compensated with fast food meals and a few hundred dollars.
"This case charges the entire criminal conspiracy from top to bottom — from the masterminds, who organized and operated the scam, to the individuals who participated to make a quick buck," said District Attorney General Cyrus R. Vance Jr. in a statement. "Our job is to protect New Yorkers, whether on the streets, online, or in the banking system…Whether you are a ring-leader or a small player, if you are caught committing fraud, you will be prosecuted."
How It All Went Down
After successfully transferring the nonexisitent funds, the schemers then took trips down to casinos in both New Jersey and Connecticut to withdraw cash from high- or no-limit checking accounts. While the Manhattan District Atttorney's indictment accuses the ringleaders and their recruits for stealing $450,000 from TD Bank's accounts, officials believe that the fraud is still ongoing and could end up costing the bank upwards of $1.6 million.
Upon opening the accounts, the members would then deposit bogus checks to checking accounts and transfer the funds to savings accounts using the bank's telephone banking options—a service that apparently doesn't vet deposited checks as stringently as necessary to avoid these type of transfers.
Here's a chart created by the New York Attorney General's office outlining exactly how this fraud worked: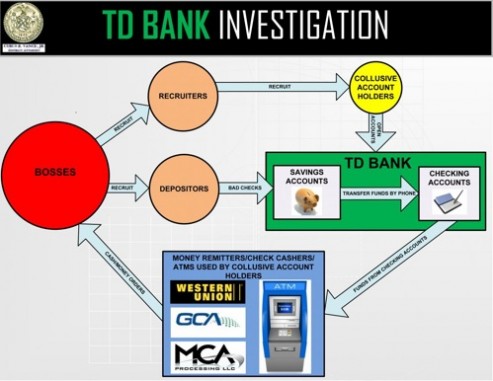 The New York Times reported that TD Bank conducted its own investigation into the fraud scheme and that no customer information was ever compromised during the time that the scam's ringleaders recruited and executed their crimes. Regardless, if you're a concerend TD Bank customer then contact the bank either online or by phone for more information about its investigation.
Ask a Question