Which Money Tracking App Is Right for You: Mint, HelloWallet, or Pageonce?
Update: Since this story was published, Pageonce changed their name to Check, before being bought out by Intuit (the company that owns Mint). They are now called Mint Bills. Mint Bills is no longer a personal finance app in the traditional sense, but rather an app that lets you pay bills.
As technology continues to devour the financial industry, more and more personal finance management (PFM) tools are introduced to the App Store each day. Three major money tracking apps recently introduced include HelloWallet, Mint and Pageonce. With similar features it can be difficult determining the right one for you.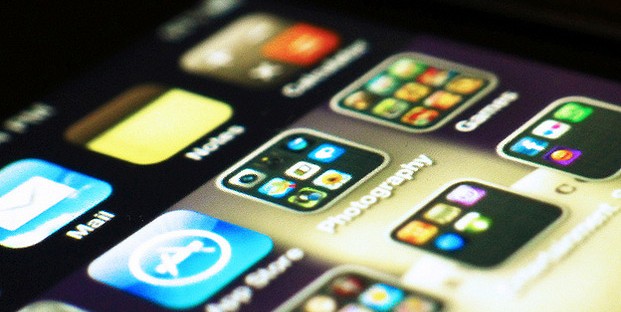 Each app has similar benefits, but different strengths. Depending on your spending habits, budgeting goals and overall personal preferences there is bound to be a tool that will fit your financial management needs.
Similarities
Security: Before we look into each app in detail it's important to get their similarities out of the way. One big feature that should be at the top of any mobile users list is security. Luckily all four apps offer extra privacy protection when interacting with your accounts. Mint.com, Adaptu and HelloWallet utilize four-digit pass codes, among other privacy measures.
Pageonce also has a PIN, but has had to work extra hard to reassure safety. The App combines many different accounts, so security is its top priority. Swearing that they've never been hacked, Pageonce completed an extensive compliance review to be able to offer the services they do.
Alerts: Besides similar security features, all the apps promise to aid in financial management with analytics, alerts and updates. With Adaptu, you can choose which types of alerts you receive falling under four categories; Community (blogs, discussions, etc.), Banking, Credit Cards and Bill Alerts. Mint offers a similar service with over 20 different things you can set alerts for. HelloWallet has something they call, "High Attention Alerts", including a checking account forecasts and personalizes spending advice.
HelloWallet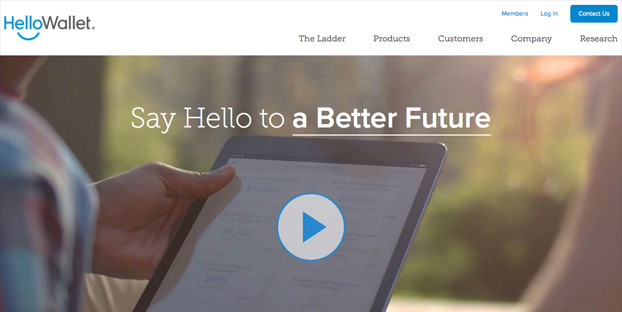 Many view HelloWallet as a pretty big competitor to Mint. With their launch of their iPhone app the personal finance service tool took a step closer towards Mint in the race to become the best PFM tool.
According to a representative, "HelloWallet's first allegiance is to our customers," a contrast from some of the sponsored apps that try and promote deals and rewards as well as guide customers.
Their online platform works as a financial advisor for just $8.95 a month. HelloWallet has initially focused on targeting large employers and 401K providers in order to help employees stabilize their finances and plan for a better future.
How it's different:
HelloWallet has set out to differentiate itself from other personal finance management tools by going farther than just tracking your finances. With personalized daily alerts that act as tips, HelloWallet really pushes you to take a proactive view of your finances.
One cool and unique feature allows you to tap into your location via GPS to let you know how much you've spent there and how much you have left to spend. Similar to how Adaptu lets you know your spending in realtime, HelloWallet simplifies this process with utilizing GPS.
HelloWallet promises to make suggestions based on what's best for you as opposed to worrying about sustaining partnerships and sponsorships with banks or reward deals. Although the traditional service costs $8.95, the app however, does not cost anything. If you are already using the sites service you should definitely check out the app.
Mint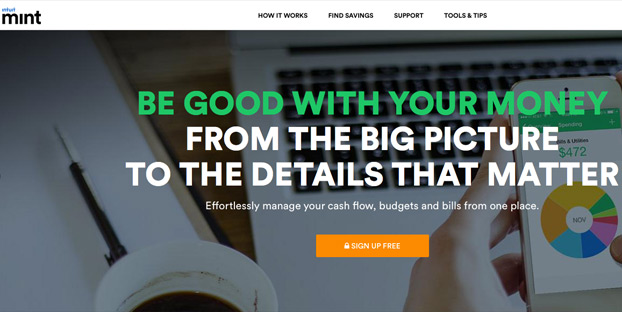 Ah Mint, the 500 pound gorilla of these apps. Mint has the most reviews out of the four apps on iTunes, which makes sense considering their platform has been around the longest.
Mint is a good product for people who are pretty self organized and disciplined. Although you can set alerts, and goals, Mint pretty much takes a back seat when it comes telling you exactly what you need to do to improve your finances.
As if Mint didn't have enough competition with banks releasing their own PFM management tools, now (as proven above) other tools are coming out with innovative features. As mentioned before, Mint has a partnership with various banks to help you pick accounts to match your spending and budgeting.
How it's different:
Mint's interface definitely stands out from the bunch. With a simple and sleek design, it's easy to keep track of how and where you are spending. This is a great app for those who are late adapters or don't need complicated features to see where and how they are spending. Mint also supports a larger variety of financial accounts.
Pageonce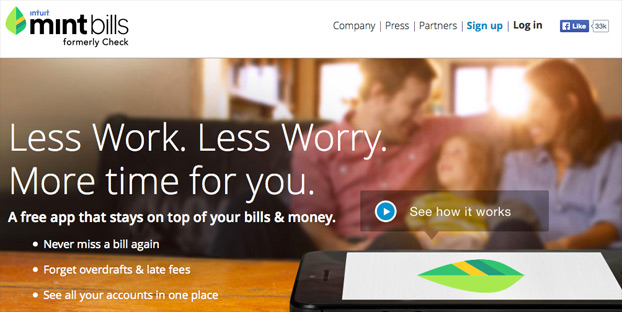 Pageonce, the original PFM app. This option has definitely caught our eye in terms of features; the only problem is, its most appealing feature, bill pay costs $4.99 a month to access. Other than that, the free Pageonce app offers many of the same spending tracking and analysis of the other apps.
Don't look for anything but a mobile platform from this company as they are strictly in app format. One benefit to Pageonce over the others is a larger variety among which accounts it tracks. A drawback, the alerts are just words on a screen, without linking to the accounts.
How it's Different:
Pageonce prides itself in the ability to link various accounts ranging past financial ones. This feature can prove beneficial for people trying to keep an eye on their cellphone minutes, utilities bill and travel bonuses. Because this app links so many accounts you will have to store all your passwords there — inconvenient to those worried about security.
Pageonce gives you the option of mashing all the passwords into one so that you don't have to remember more than one. The company also swears up and down that they have the highest security specification available for their product.
While the ability to complete bill payments will run you $4.99 a month, Pageonce is currently the only app that offers this option. This upgrade will also give you access to Pageonce Gold, a benefit for anyone who needs all their tasks and expenses in one clean package and wants more control over how they manage money.
Which one is right for you?
In the end, it looks like all these apps address different things for users. What kind of help are you looking for? If you want a little voice in your head stopping you from making a bad decision, go with Adaptu. If you want a PFM tool that really analyzes you as an individual and gives you targeted advice, go with HelloWallet. A good app for people who know what they need to improve but need help with the calculations would be Mint. Pageonce is perfect for those who don't mind spending a little more to keep all of their finances linked in one place.
Ask a Question