Why Are Fewer Banks Failing?
Ever since the beginning of the financial collapse, August of 2008, the FDIC has closed 405 U.S. banks. They have ranged in size from massive megabanks to small community banks in podunk towns, but they all share one thing in common: the FDIC has always shuttered them on Fridays.
The last three Fridays, however, have yielded no bank closures. Even Florida and Georgia, which have been such reliable sources of failing banks, have held their ground. Is this a sign of things turning around for banks, or merely a hiccup?
First, we must understand what happens when a bank closes and the FDIC takes it into receivership. We spoke with FDIC spokesman Greg Hernandez to shed some light on the topic for us.
In addition to insuring deposits up to $250,000, the FDIC acts as a middleman when banks fail. State level regulators (Georgia Department of Banking and Finance, Florida's Office of Financial Regulation, etc) are the ones who ask the FDIC to step in when they want a bank in their jurisdiction shuttered. The FDIC does not make this decision on their own.
After this, the FDIC, in most discreet fashion, markets the failing bank's assets to other banks who might be looking to purchase for 90 to 100 days, accepting the bid that costs the least to the Deposit Insurance Fund. Then federal and state regulators decide on a Friday to make the closure official. This is purely practical; not all banks are open on Saturdays, and those that are have shorter hours. This makes Friday the ideal day to work with the staff to get the bank open for Saturday or Monday under new ownership.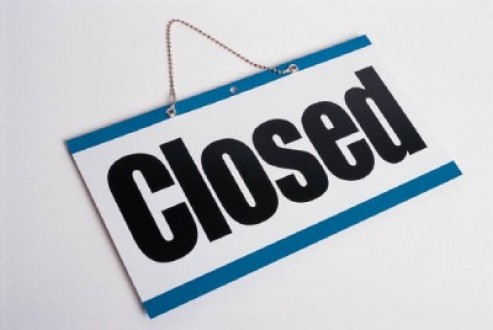 Because bank failures are not a surprise to the FDIC or state regulators — though they are for the bank's staff, and these Fridays can be "emotional days" according to Hernandez — they plan out a day that works for everyone. That there haven't been failures in three weeks might be purely logistical. Looking back at bank failures from 2009 and 2010 there were gaps in late November and early December, even as bank failures were at all-time highs, owing perhaps to holiday schedules.
But still, the trend in bank failures has been uniformly downwards. 140 banks failed in 2009, and 157 failed in 2010. 90 have failed so far this year. And the size of the failing banks has been moving downwards,too. In 2009, the average value of assets of failing institutions was $1.2 billion; in 2010 this went down to $600 million, and this year it was $400 million, according to Hernandez.
Most of these are community banks, and most failed due to having overextended themselves in commercial real estate and construction lending, Hernandez said.
This slowdown has prompted the FDIC to shrink its budget. Because they closed only 90 banks this year, their budget will shrink for the next year, and they will be closing their temporary regional offices in Irvine, CA, which served the West Coast, and in Schaumburg, IL, which served the Midwest. These offices were made to make the closing of banks more efficient. Bank failure duties for these areas will kick back to the Dallas regional office, where they had been before.
The FDIC's East Coast Temporary Satellite Office in Jacksonville, FL will remain open, because of Florida and Georgia's relative prolificness in the failed bank department.
Hopefully this scaling back of regional offices will represent a significant slowing of bank failures in 2012. We have still yet to hit close-of-business today, but perhaps this Friday will remain failure free, too.
Ask a Question