Six Flags' Dancing Grandpa Look-Alike Goes on a Crime Spree
Remember when bank robberies were a glamourous thing that people made movies about? Modern day technology has turned sensational bank robbery stories to hacking headlines. Although hacking is an important security issue that should be addressed and consequently combated, actual bank robberies are more intriguing to report.
This latest story out of California is no exception. The man, nicknamed the 'Geezer Bandit' by the FBI, has robbed a total of 16 banks over the past two years. Fortunately, it appears authorities are making progress in nabbing him after a recent snafu.
For the past two years, a man said to be in his 60s or 70s has been walking into various banks, most recently Bank of America®, and using a revolver pistol paired with a note to get his hands on some cash.
The reward for his capture is already at $20,000 as he continues to escape the law. In a recent twist of events, the FBI has released new data and a surveillance video indicated that this may not be a 'geezer' after all. His most recent heist at a Bank of America® branch in San Kuis Obispo shows a quick getaway that implies he could potentially be a young person with a convincing mask:
In what is turning into a crime-filled real life version of the Six Flags commercial — you know the one with the creepy dancing old guy (a.k.a. Mr. Six) — police believe they can even track down where he (or she) bought the disguise.
Costume company SPFX Masks is in the hot seat as cops demand all the records of those who have bought "The Elder" mask sold at their stores. Although this methodology may seem like a reach, the similarity between "The Elder" and the 'Geezer Bandit' is uncanny.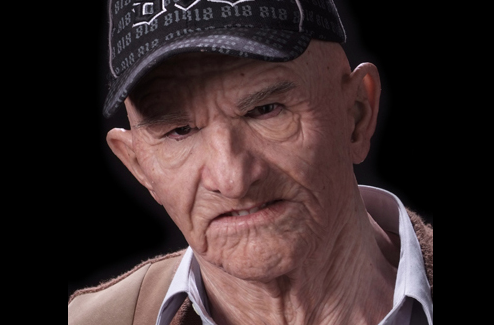 At a hefty $810 price tag, it's no wonder this individual has to resort to robbing banks. Hopefully the FBI can nab this culprit, but in the meantime readers can continue to be entertained by this old/young man/woman's antics.
Ask a Question