Consumers and Merchants Play A Game of Swipe Fee Hot Potato
This past Friday was a very special day at MyBankTracker.com: it was our annual holiday party. A lovely time indeed, but perhaps not the best thing to do when there is Christmas shopping to be done the next day. But the run-up to the holidays are nothing if not a litany of obligations, so there I found myself on Saturday, looking for trinkets at Brooklyn Flea with the haze of a few post-dinner Manhattans creating a barely perceptible barrier between my mind and the real world.
Brooklyn Flea was bursting at the seams on Saturday with Europeans and children, two of the worst groups of people to be around in this state; both are at once foreign and familiar, reminding you that you could have been anyone, anything, and instead you are suffering due to decisions made the night before, hunting for trinkets. And even this simple task has been made complicated because you're trapped in your head with your tedious thoughts.

After a lap around the market, I found a drinking-related gift for a family member (there's an embargo on this information until the 25th, unfortunately) at a vintage shop in the corner of the old Williamsburgh Bank lobby that houses the Brooklyn Flea. $20. Perfect. Except I didn't have any cash. "We Gladly Accept [pictures of various credit card logos]," read a sign on the shelf. I was set.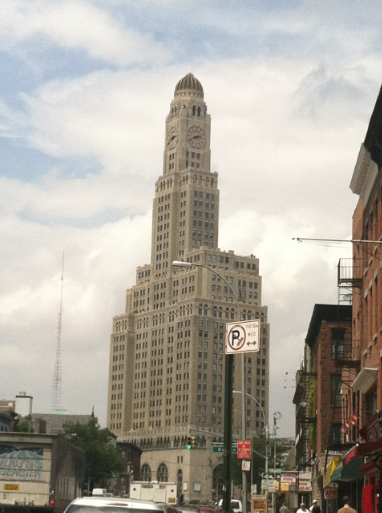 "Aw man, you don't have, like, a $20 bill?" the vendor asked me when I offered my debit card. His debit minimum is usually, like, $70, he explained. There's an ATM in the lobby, wouldn't I just grab cash from there?
Normally, I'd be indignant (it's not as if selling pieces of cool junk is low-margin). But I really wanted this gift — it was perfect! — so I went to the ATM and likely paid about $4 in all, between ATM fees and my bank's fees, to get cash out. My money. What would my friendly trinket vendor have paid in interchange? Two percent?
In fact, every vendor I purchased goods from at the flea quoted me one price when I got ready to pay and added tax (and maybe fees) to it only after I produced my debit card. A cash transaction, as anyone knows, is easier to hide from Uncle Sam's watchful eye than credit, and it circumvents Our Benevolent Payments Duopoly's interchange fees.
Vendors were doing everything in their power to pass these costs down to me; they succeeded.
The following night I stopped by a new restaurant in my neighborhood, which is only recently becoming at all safe and appropriately lacks good restaurants, and noticed a sign outside: "[Cool Brooklyn Restaurant] is CASH ONLY Tonight."
Curious. Talking to the chef/owner about how business is going, he said it was good, but mentioned that they had paid more than $10,000 in credit and debit fees over the last few months. That, for them, is several months' rent. They're switching to "Cash Preferred" he said. Meaning: they will do all they can to get people to pay cash, and only accept credit and debit as a last resort.
Our waitress dropped the check. I ran to a bodega as it was rolling down its gates, used their ATM, and paid more fees.
No matter where I turned last weekend I was paying money to spend my money. Whether it was through taxes that might not otherwise have been charged by vendors or from ATMs to pay vendors who have flexible credit card policies to protect themselves from exorbitant interchange fees.
Now I'll allow that it was likely anomalous that I, someone who writes for a personal finance website, encountered multiple instances of small vendors dodging interchange fees over the period of a weekend. But perhaps it wasn't! Brooklyn sets all sorts of trends, right? Times are tough and vendors have to consider each and every cost on their balance sheet. But consumers will get fed up with being made to revert to paper cash after a decade of commercials telling us that paper money is for dinosaurs.
This can only last for so long, with so many people creating alternative payments networks (like Dwolla, who we covered last week). Vendors and customers will only play hot potato with interchange fees for so long; eventually something better will come along, and crush the payments duopoly from the outside. It has to happen. I'm sick of running to the bodega just to help out small business owners.
Ask a Question