Most Expensive Christmas Tree Worth $11M
We love infographics here at MyBankTracker.com, especially holiday-themed ones with consumer spending information. In preparation for the Christmas holiday we were discussing gift-giving and tree-shopping and got to thinking. How much do Americans actually spend on Christmas and what does that spending go towards?
Thanks to History.com's cool infographic we can put some numbers behind the holiday. With a reported 95% of the population celebrating this year, it'll be interesting to see if holiday shopping hits the projected numbers and gives our economy the bump up it needs.
In collaboration with Column Five, History.com crunched numbers from over 10 resources to come up with the interactive chart shown below.
Highlights of 'Christmas By The Numbers'
There is a lot of cool info on this graph. For example, did you know that around 30% of the population heads to the post office during the holidays? That's all interesting, but we want to know about the cash, moula, greens, dolla—okay, you get it.
According to this chart, the U.S produces 1.76 Billion candy canes each year. If merchants were able to sell every last candy cane at $3 a piece, it would create $5.28 billion worth of revenue. $5.28 billion is a tough number to calculate, so let's make it easier on you, that amount turns into enough money to give everyone in the U.S around $17 this holiday season. That is also enough candy cane to wrap around the earth 6.7 times.
If you have sent a festive holiday package you may have purchase a winter holiday stamp. Each year, the U.S. Postal Service sells over 1.3 billion holiday stamps which equates to 10% of its annual stamp sales. At $0.44 cents a pop, the post office makes around $572,000 on stamps alone. This figure will be slightly higher next year considering stamps will be increasing to $0.45 a piece come January 2012.
If you think your tree is pretty tricked out, it probably can't beat the one they had in the Emirates Palace in 2010. This $11 Million dollar tree was draped in gold jewelry including, 181 diamonds, pearls, emeralds and more – even though the tree was fake, it cost $10,000 (we don't get it either).
This may have been the fanciest tree ever, but we find that homemade ornaments combined with an intimate setting trump flashy, fake trees any day. If you want to see all the other cool findings click to expand: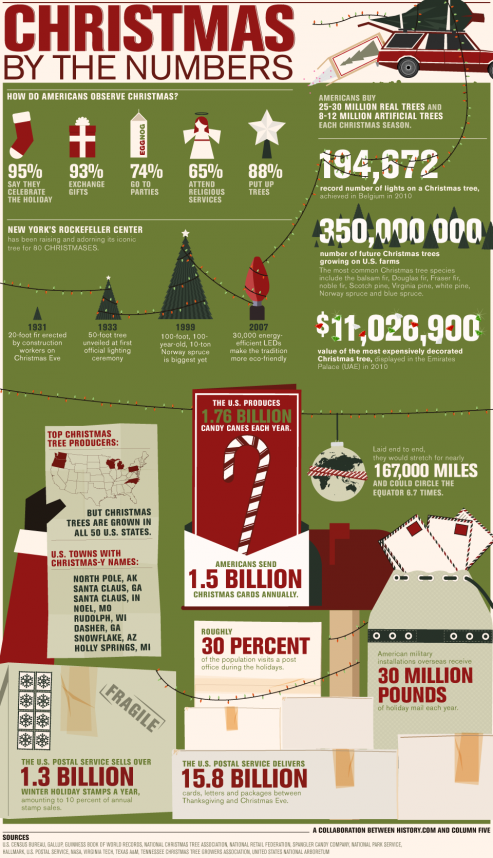 Ask a Question