MyBankTracker.com Launches Bank Report Cards
The grades are in for banks. In our effort to arm consumers with the tools to make smarter banking decisions, MyBankTracker has released the Bank Report Card, a one-page comprehensive overview of the most consumer-relevant features of a bank.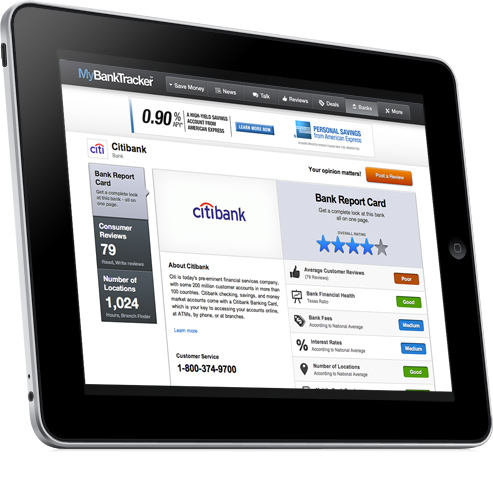 Consumers shopping for a new bank would find great value in the Bank Report Cards, which will offer a simple way to compare banks.
The Bank Report Card shows a grade, ranging from 1 star (least desirable) to 5 stars (most desirable), that is determined by a proprietary rating system.
The rating system applies over 100 different variables to gauge:
Consumer appeal (based on MyBankTracker bank reviews)
Bank health (based on the Texas Ratio)
Products and fees and how they compare to competing institutions
Forward-thinking and technological receptivity
MyBankTracker currently tracks over 50 online banks in addition to over 9,000 traditional banks, each of which have their own Bank Report Card. Just as examples, these are the top 5 online banks with the highest overall ratings on their Bank Report Cards:
The Bank Report Card also evaluates the significant factors that contributed to a bank's grade. Customer reviews, bank financial health, fees, interest rates, number of locations, and mobile banking accessibility are individually rated. (Learn more about the methodology behind the Bank Report Card here.)
With the Bank Report Card, consumers will reduce the time they spent maneuvering the labyrinth of pages of a bank's website. It provides an extensive, yet succinct, tool for consumers who are easily lost when comparing the most concerning features between banks.
A Better Way to Find Your Next Bank
To review a Bank Report Card, simply click on a bank while browsing any corner of MyBankTracker. You may be shopping for an online savings account and be presented with banks that offer attractive rates, which is a perfect situation where the Bank Report Cards will come in handy.
Since every individual has unique banking needs, the Bank Report Card allows you to consolidate your choices of potential banks based on the star ratings. Afterwards, you can review and compare the key bank characteristics that matter most to you.
Although two different banks may have the same bank rating, it is important to note that one bank may perform better in certain areas where another bank achieves a lower grade.
For instance, PNC Bank and SunTrust Bank have 3-star ratings but PNC Bank offers lower fees and higher interest rates while SunTrust Bank has better customer reviews.
With Bank Report Card, MyBankTracker continues to take steps towards achieving our ultimate mission. Giving you, our reader, the tools needed to making smarter banking decisions. The MyBankTracker team hopes that the newly launched Bank Report Cards will prove to be a useful resource for you.
Ask a Question