Citi Turns Your Reward Points Into Social Currency on Facebook
Drawing on the power of Facebook, Citi wants to connect its ThankYou members to form collective efforts on spending their rewards points.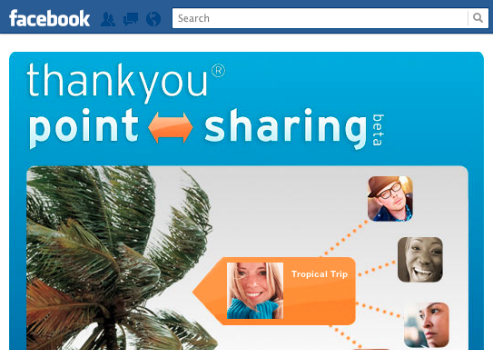 Through a new application on the social media site, members will be able to pool together ThankYou Rewards points for merchandise, services, experiences, and charitable donations.
Rewards points will be more than just a currency for your personal use – they can now serve a social agenda.
Citi (NYSE: C) has launched a new application on Facebook that allows just that. The ThankYou Point Sharing app on Facebook allows members to contribute to a single reward in the ThankYou Rewards program.
Group gifts and charitable donations are possible uses for the new social app.
"With the new ability to pool points together through their social networks, ThankYou members can rally their friends towards a bigger reward – whether they are interested in combining points to book a weekend getaway or supporting a common cause," said Ralph Andretta, head of Citi's co-branded card and loyalty programs.
ThankYou Points Take Form As Social Currency
To celebrate the launch, Citi is handing out 2,500 ThankYou points to the first 4,000 members who link their personal Facebook page to the app before midnight February 5.
After linking to the ThankYou Point Sharing app, you can begin creating a pool to collect rewards points for a specific item in the reward program's catalog (and designating a single recipient to manage the points contributions).
You can invite Facebook friends, who've also linked their accounts to Citi's Facebook app, to pitch in.
Any Citi customer with a credit card or checking account that participates in the ThankYou Rewards program are eligible to link to this Facebook app.
It's just another way that Citi has been expanding its rewards redemption outlets.
Last August, Citi released a dedicated ThankYou Rewards app that lets members redeem points on-the-go. Furthermore, the app has an incorporated bar code scanner specifically for products at Best Buy, where members can instantly check the cost (in points) of merchandise.
Andretta says the ThankYou Point Sharing app is the first in the industry – an expansion of a service (released last year) that lets customers transfer ThankYou points to other customers from the bank's website.
Ask a Question