Suze Orman's New Prepaid Card Makes Questionable Claims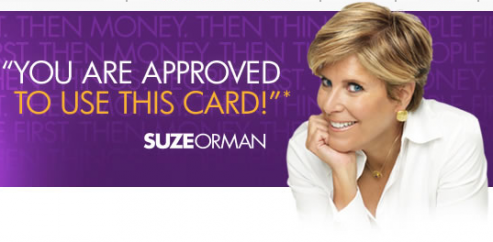 Renowned financial advisor and author Suze Orman is the latest in a long line of celebrities to release a branded prepaid debit card. The "Approved Card" from Suze Orman aims to be different from all those other celebrity-branded prepaid cards.
Not only does Orman's card boast low fees, it purports to have a larger goal called The Credit Project, which shares anonymized spending data with the credit bureau TransUnion in an effort to find out whether debit spending data would have an effect on access to credit products.
The low fees, the hint of a larger consumer-sided goal, and the endorsement by a well-known public figure in personal finance make the Approved Card a dubious little product. It's not quite as great as Ms. Orman would have you believe. It's expensive if you don't use it right, and if you can use it properly, you might not need a prepaid card in the first place.
As always with prepaid debit products, the fees are the first place to look for signs of trouble. Orman, to her credit, is very straightforward about the fee schedule on her card, which is not too bad. The card costs only $3 upfront, and $3 per month to maintain — the first month's fee is waived. It costs $2 to use ATMs, though if you make a direct deposit or bank account transfer onto the card, Allpoint ATM fees are waived for that month.
And while the Approved Card doesn't charge any fees for reloading with cash, they don't provide any free way to do it; it will cost you whatever MoneyGram or Western Union charges (around $3.50).
The fees are steeper than one would encounter using a traditional bank account linked debit card, but competitive as far as prepaid products are concerned. Unlike the Kardashian Kard or Lil Wayne's Young Money card, exorbitant monthly fees pose less of a hurdle. And Orman offers an easy way around ATM fees, so long as you're employed and/or already have another bank account, and live close to an Allpoint ATM — they aren't so easy to find at times (there's an app for that).
But if you were being paid regular direct deposits, why wouldn't you have a bank account? And if you have a checking account, why not get a real debit card? And this is the problem with the Approved Card, of course: it offers ways around fees only for those who wouldn't get the card in the first place.
In the Name of Credit Awareness
Orman's goal of helping people improve and monitor their credit score is high-minded, but it's not immediately clear what actual benefits the card could deliver in that department. It offers customers free access to their TransUnion score every day if they like. This service, which the website claims is an $11.95 a month value, is free for a year with the Approved Card. After a year is up? They don't say.
Furthermore, Orman's card will report all of your spending activity to TransUnion (anonymously), and TransUnion will "help us understand whether including this data in your credit report would impact your access to credit products." Our guess: no!
Prepaid debit use is the precise opposite of credit in virtually every way imaginable, and lenders won't soon be able to judge creditworthiness based on the fact that you managed not to overspend using a product specifically designed to make overspending impossible. If you have tied your hands behind your back, you wouldn't expect to be rewarded for not rooting around in the cookie jar, would you?
Orman is not likely to change the way lenders determine creditworthiness, but she'll definitely give TransUnion a good look at the spending habits of the underbanked. Now that might be valuable.
Ask a Question