Your Bank Wants to Be Facebook Friends
Two out of three Americans use social media, so it's no surprise every company is on the move to capture the social bug, but banks also need to start focusing on their social media angle. Although many banks have the ability to integrate their services with various social networking sites, it may not be the best move, according to new findings.
An extensive report by the Javelin Strategy & Research Group on "Banking and Social Media" reveals where banks are falling short in terms of utilizing social media, how consumers feel about financial institutions in this personal space and where they can improve.
In approaching the study, Javelin first broke up the 5,102 consumers surveyed into five groups:
Moneyhawks: 10% of those surveyed, differentiated from the others by using mobile banking in the past 30 days
Online Banking Loyalists: 33% of those surveyed, mainly used online banking and rarely used mobile banking.
Malleable Traditionalists: 25% of those surveyed, do not use bank bill pay and mainly used online banking and occasional mobile banking.
Cautiously Content Consumers: 15% of those surveyed, these people barely use their banks if use a bank at all
Inconsistent Consumers: 17% these consumers were not examined in the report
What became apparent throughout the study is that banks have to start targeting customers in the way technology is used to interact with these banks.
What Consumers Think of Social-Savvy Banks
They don't like them. Well, depending on how the bank utilizes social networking. When asked the likelihood of using social media to review account balances, the average answer was a resounding 79% Unlikely/Very Unlikely. People do not want to link their bank accounts with their social media usage, and it's understandable. Maybe this is why we have yet to see any of the popular personal finance management tools such as Mint.com release a Facebook App.
Recently, Facebook began allowing advertisers to dole out in-app currency when users complete certain offers, such as signing up for credit cards – again depicting the creative ways that financial institutions can penetrate the social media arena.
Survey respondents were also none too interested in using social media to receive promotions and discounts, though one group (18-24 year-olds) did indicate a high level of interest (30% saying they'd be Likely/Very Likely). While, interest dwindled by age, this could be another sign to why American Express has invested so heavily into both Facebook and Foursquare with their Exclusive Offers program.
Looking beyond age, its seems other banks should keep a close eye on AmEx and their social tactics. In reviewing the below chart, we can see that consumers do not want to interact with their banks across the board, yet 15% of consumers did show a positive interest for the least invasive service of receiving updates on any promotions or discounts — score one for Amex.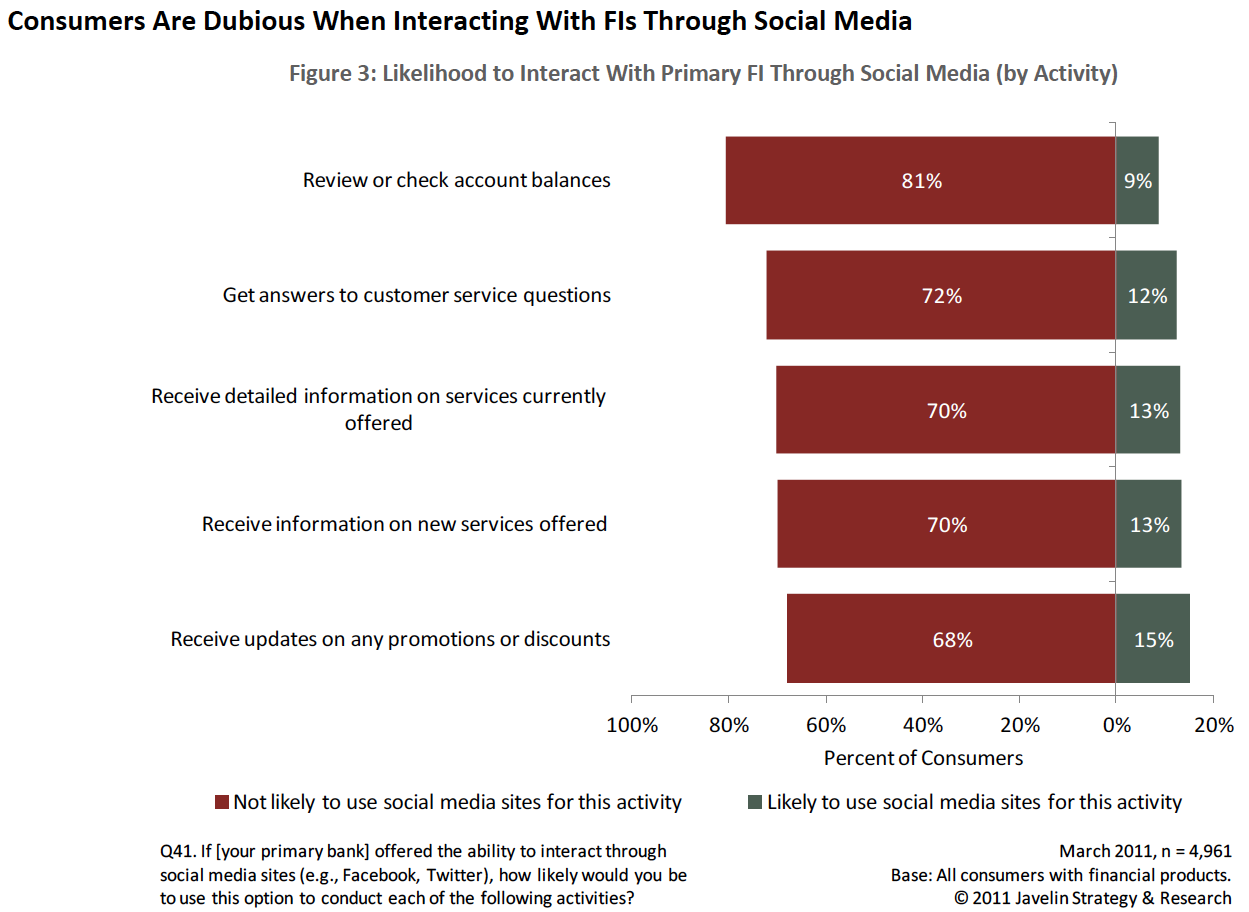 For these reasons, banks aren't too concerned with investing time and money when navigating the murky waters of social networking — this doesn't mean they will not be interested soon. Javelin points out, "consumers are less resistant to mixing banking and social media if FIs use social networks for branding and customer service rather than monitoring and actually conducting transactions."
What's the next move?
After looking at all this data and the popularity of social networking in our current day and age, there are some clear-cut steps banks should be taking to improve their ranking among customers.
Design a Defensive Social Media Strategy
Even though consumers are wary of turning to social media for their banking needs, banks still need to be connected to what is going on in the social media realm. This data indicated the best way to go about connecting to consumers is through social media. Banks are not necessarily going to be "in your face" when it comes to issues you may have. But they will definitely be listening to your problems.
Respect the New Customer Service Space
Many people take to Twitter and Facebook statuses to express their frustrations or joys with their banks. If you are one of these people, make sure to check out to see if your bank has special handle or page dedicated to customer service.
A lot of banks use the popularity of social media as an opportunity to create separate branded pages and handles to solely address customer problems. Some examples of Twitter handles such as @askCiti or @BofA_Help are created for the sole purpose of answering questions.
Just be careful with what information you share over the internet.
Ramp Up Security
As mentioned above, the big problem with sharing information via social media is the question of security — a question that makes many opposed to the subject. If your bank begins to offer more ways to interact with them via social media make sure to hold them accountable to safe banking standards. They should be completely transparent and show how they are protecting your information.
Overall, banks should take the opportunity to utilize social media as a tool to personalize the consumer experience. With the projected trends for 2012, it would come as no surprise if you suddenly started hearing from your bank via Twitter more, or even saw a bigger push from them on Facebook. As a tech-savvy consumer, it is your responsibility to hold them up to safety standards and expectations.
Ask a Question