Jack Lew's Citibank Baggage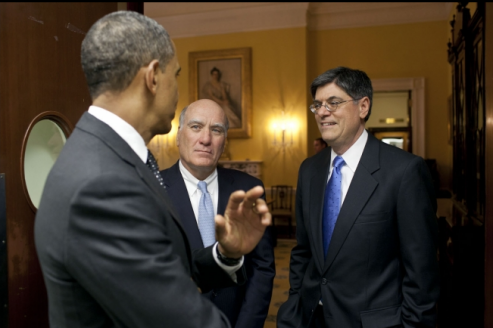 President Barack Obama's administration is in flux this week as his second chief of staff, Bill Daley, is stepping down, to be replaced by Jacob "Jack" Lew, former Office of Management and Budget director. Apparently, Lew is better liked by Congressional Democrats than Daley is, or was, making him a popular enough pick, but Lew brings some private sector baggage with him to the White House.
And, not surprisingly for the Obama administration, this baggage comes from a big bank, specifically Citigroup. Lew used to work as chief operating officer of Citigroup Alternative Investments, a proprietary trading division at the bank. He worked at Citi from 2006 until 2009, spending one year at the prop trading unit, overseeing the tail end of the real estate boom, the collapse, and Citi's entrance into TARP. It must have been very, very fun for him.
One of Obama's signature pieces of legislation, the Dodd-Frank Act, contains the infamous Volcker Rule that will severely limit depository institutions from engaging in speculative trading when it goes into effect — exactly what his new chief of staff did for a living during the financial collapse. Lew is lucky he got out when he did.
Furthermore, as this 2010 Huffington Post article alleges, under Lew's guidance, Citi Alternative Investments effectively bet against the housing market by investing with a fund called Paulson Advantage Plus LP, which made millions shorting the housing bubble. Lew, as part of his investment strategy, effectively bet on the collapse of the economy, and won.
This doesn't make Lew a bad person of course. It means he was trying to do well at his job, a job which is potentially detrimental to economy but very potentially lucrative for Citi executives and shareholders. What is most problematic about this is that Lew has stated on record that he doesn't believe deregulation led to the financial collapse, according to another story by the same journalist on the Huffington Post.
This runs counter to the Obama administration's efforts to reintroduce regulations to the banking industry in an effort to help reduce the systemic risk that it poses to the economy by virtue of its size. And this, from a man who tried to make money for Citigroup — the unit lost a lot of money during his tenure — by betting that the housing market would collapse even as Citibank was creating mortgage backed securities and misleading investors about their quality because the ratings agencies stopped paying attention.
As absurd as that looks from outside, that is how Wall Street works, and apparently it doesn't look quite so strange from within. And even though Lew has been a public servant now for some time, it doesn't mean he has unlearned the ability to think the Wall Street way. As the president's chief of staff, he will control access to the president, and represent the president's interests to Congress. Will this matter?
CBS points out that both Bill Daley and Rahm Emanuel used to work on Wall Street, too. So this is nothing new to Obama's White House, which is full of former Goldman Sachs Bank USA employees and the like. Lew's history with betting against the economy is just a little fresh, perhaps.
Ask a Question