6 Financial Tech Companies To Help You Manage Your Money
If 2012 is the year you plan to transform the way you interact with your finances, then look no further — you're in luck. Over the past few months a number of startups — taking the finance world by storm — have began to mature and are ready for mass adoption.
What's most appealing in today's fintech startups lies in a common methodology – making running your finances extremely easy. This is done through their use of popular technologies we use everyday. From mobile to social media, we even find a level of gamification within these innovations.
In helping you find the right products, here are six financial innovations worth checking out as you begin to blur the lines between your money and technology.
MANILLA
Tired of tracking all bills and statements across multiple platforms? Manilla is a free service, designed to streamline that experience and help you stay organized. Through it's easy interface you can now track all of your bills, statements, due dates and payments. To get started, all you need to do is link your vendor accounts. Set alerts and you no longer have to worry about missing due dates.

We should point out that to use the feature you have to opt out of paper statements. Part of their mission is saving the planet, which you have to admit is very cool. Also, you still have to visit each provider's site to pay the bill, but Manilla says they are working on bringing this feature in-house very soon.
READY FOR ZERO
Haven't used Mint or one of the other personal finance management tools because you feel your finances are too far in debt? Then Ready For Zero can help you get back on track by focusing on one thing – eliminating your debts. By creating a personalized plan, Ready for Zero will help you track and pay down your debt in a timeline that best fits your current financial scenario.
BILLGUARD
With the financial industry always changing, it's hard to keep up with all the fees and requirements that come with using your credit or debit card. BillGuard was designed to keep you protected from such scenarios. By linking your debit and credit cards, the startup will scan for fraud or questionable charges. Using crowd-sourced information, it can quickly learn about new charges and scan to see if you may also be getting hit. Once it finds an issue, it will alert you of any suspicious billing errors, scams and fraudulent behavior.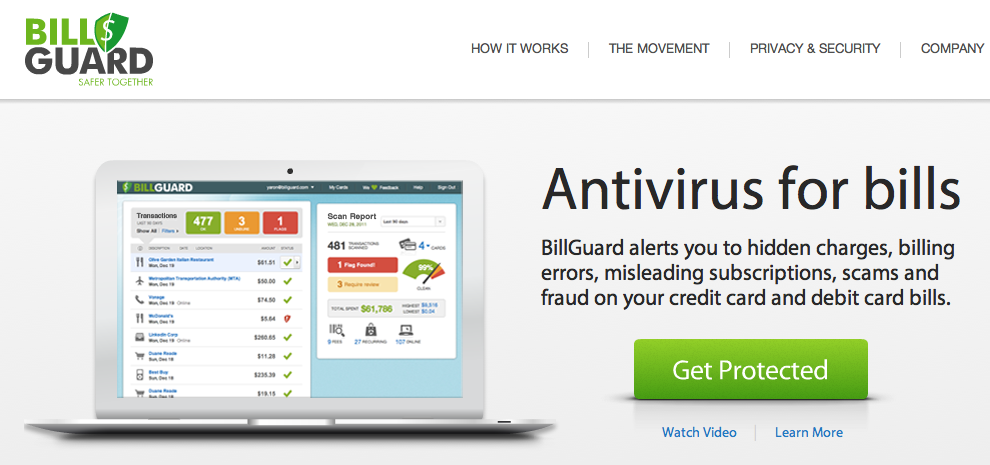 For those who are already Mint.com users, the service also has this feature. Those who don't want all the bells and whistles that come with mint, and instead prefer to focus only on protecting against fees and errors, this service could be a better option.
BillGuard is free but the company makes money by selling advanced card protection services to businesses and banks.
CREDIT KARMA
Probably the oldest of all the startups discussed in this post, we've talked about Credit Karma in the past, but if your not familiar with it, it's a free web-based service that helps you check your credit score for free.
So, why should you be incorporating Credit Karma into you financial life in 2012? Mostly due to two new features they recent rolled out, the first being their free credit monitoring service and the second is their credit focused management tool called My Account.
Launched in beta over the summer of 2011, Credit Karma can now run daily checks on your credit score and provide alerts whenever something fishy has been detected. They can do this without hurting your credit score, though you will have to handle the disputes yourself.
With My Accounts, it's their version of Mint.com focused purely on credit cards and loans. Niche-focused finance management tools seem to be a growing trend and this can be a viable option if you're focused on maximizing your money through credit.
BETTERMENT
With so many tools and services available to help you save money, there are few options to help you make money. While investing may not be top-of-mind for you in 2012, you may want to consider testing the waters. A great way to do this is Betterment, an investment service aimed to help busy people invest their money in a smart, easier way.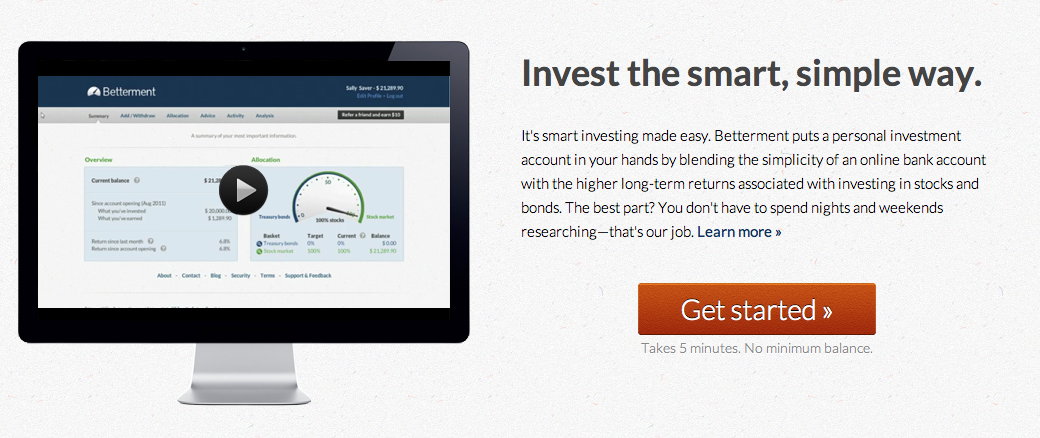 Instead of managing multiple stocks, Betterment allows you to control you investment by choosing between 'low risk' and ' high reward' portfolios of diversified funds. Just set your risk tolerance and your portfolio is reflect it.
There is an annual management fee or 0.3% – 0.9% of your average balance.
DWOLLA
Strangely enough, transferring money can actually become very expensive. But as we explained in our review of Dwolla, it really doesn't need to be. First launching as a platform to move money through social networks and later your mobile phone (SMS or app), Dwolla is quickly becoming a platform to interact with retailers (much like Square). Not to mention an instant ATM for up to $500 of credit as you wait for that transfer.
For full disclosure we use Dwolla on a monthly basis, and beyond being able to link our bank account. It's helpful to know that for the unbanked customers, the option to keep your money stored in your Dwolla account is very refreshing. With fees of only $0.25 per transaction and no cost for purchases or transfers under $10, we're not surprised that the startup completes $1 million in payments per day.
BONUS: PERSONAL FINANCE MANAGEMENT APPS
As we continue to shift our behaviors around technology and rely more heavily on mobile habits thanks to apps, the choice for managing your money has become a somewhat flooded.
Recently we reviewed four of the more popular apps, from the mobile-only established option of Pageonce to new startups like Adaptu and found that each offers something a little unique. From providing real-time advice on purchases to offering unbiased recommendations for a monthly fee, one thing you can be certain each option has is a high level of security.
Find out which app you should use to track your money here.
As you can see, there are a number of options available to you in guiding your financial goals. If you're currently using any of these products or know of one we missed, be sure to tell us about it below.
Ask a Question