Banks Better Learn How to Tweet If They Want to Keep Customers
When Twitter was first introduced to the public in March 2006, some saw it as a great way to share what they were up to, while others saw it as a nuisance. No matter which side you were on, there is no denying the social network has now grown into a worldwide phenomenon, with over 300 million users in 2011.
As Twitter grew in popularity, it also grew in purpose; meaning many businesses began assigning marketing value to the social networking tool. By leveraging instant connectivity to users, businesses could easily announce any new developments without paying for a costly campaign. One industry that needs to start paying particularly close attention to Twitter is the financial one.
Javelin Strategy & Research recently came out with a "Banking and Social Media" report showing the importance of leveraging social media for banks. One of the main findings of the report was that people do not feel comfortable using social networking sites to conduct their banking — not very surprising. Despite such low customer affection for this form of banking, banks need to leverage this popular communication medium and attach it to their brand name.
However, many are joining the social media revolution, so it's on banks to figure out the best way to reach out to customers through the social networks, and thus far it's looking like Twitter is one of their best bets. The report points out, "FIs should aim first to use social media as a channel to build and promote the brand, spark fan viral marketing, and engage consumers with interactive promotions. But, social networks also offer a tantalizing venue for customer service that is immediate and augments conventional face-to-face branch service and voice-to-voice call center service."
Tweeting Customer Service
Whether you are opposed to the idea of Twitter or not, there's no denying that it's increasingly becoming the best way to get the attention of otherwise unreachable companies.
With long wait times, sitting through automated messages and needing to enter all sorts of information — getting a hold of customer service for your bank, for example, can be one of the most frustrating experiences ever. The great thing about using Twitter to grab the attention of your bank is you can just tweet your thoughts and tag them with the '@' symbol and the bank's Twitter handle.
There are some drawbacks though, as you may not be able to describe your problem in 140 characters. Even if you can, most of the times bank representatives respond to tweets with, " I understand you're frustrated. Can I help? Please call me directly at ——– (it's for your privacy and security)."
As banks realize the importance of being available via all social channels, do not be surprised if you will begin to shift their focus to campaigns revolving around those sites. Giant banks jumped on this bandwagon early by creating Twitter handles such as @BofA_Help, @AskCiti and @Ask_WellsFargo among others. Although these handles are often recipients of rants and rage from customers, a bank that can eloquently address the complaints can come out on top.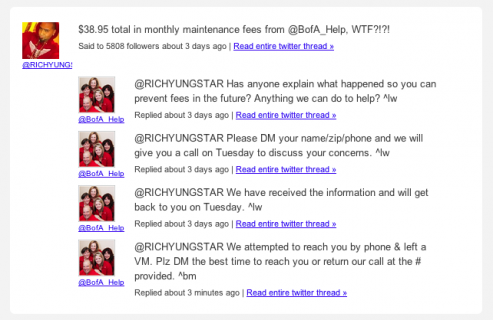 The study only looked at a few of the bigger banks on Twitter. But, during the commotion of Occupy Wall Street protests and potential debit fee changes, banks experiences triple the amount of activity on Twitter with nearly tripled Twitter nearly 6,000 interactions.
It can be hard to adapt to the newest trends and technological etiquette as they continue to evolve rapid, but as businesses start paying more attention to sites like Twitter, Facebook, Google+, it may be time you do as well.
Ask a Question