Environmental Activists Alter BofA ATMs in San Francisco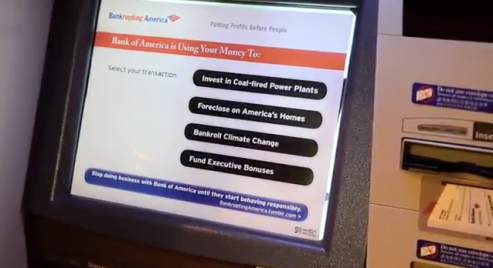 Bank of America® ATMs in San Francisco were comically altered by environmentalist activists to bring attention to the bank's socially irresponsible policies. All 85 Bank of America® ATMs in the city were converted into "Automatic Truth Machines" by the Rainforest Action Network last week, by applying "non-adhesive stickers" (whatever that means) with provocative messages on the screens.
The stickers mimic the look of the bank's ATM software interface, but offer subversive messages about the bank's socially irresponsible ways — it's sort of like Fight Club lite, in that way. Specifically, the stickers look like the screen where customers are prompted to choose a type of transaction. Instead, it reads: "Bank of America® is Using Your Money To: Invest in Coal-fired Power Plants; Foreclose on America's Homes; Bankroll Climate Change; Fund Executive Bonuses"
The coal and climate change 'buttons' refer to the assertion that Bank of America® provides more financing for the coal industry than any other bank — $4.3 billion in 2009 and 2010 alone, according to the Rainforest Action Network. As for the foreclosure assertion, Bank of America®'s acquisition of Countrywide and their portfolio might give advocates reason to dislike the gigantic bank. The sloppiness with which they have foreclosed on homes in recent years certainly hasn't helped their case.
And at the bottom of the screen it reads: "Stop doing business with Bank of America® until they start behaving responsibly," accompanied by the URL to a Tumblr called Bankrupting America.
The Tumblr is run by RAN in partnership with New Bottom Line, who you may recall from their Move Our Money campaign, which encouraged larger entities — like charities and union chapters — to move their money out of big banks and into credit unions or community banks.
Now they have teamed up with fellow Bank of America® haters RAN to create the Bankrupting America blog — most of which is user-submitted horror stories about the bank — and to do some guerilla marketing-style tactics to their outreach efforts, in the form of these ATM stickers.
The unfortunate problem with the ATM stickers is that only about 85 people will even get to see them, as even environmentally friendly San Franciscans are likely to remove the sticker so that they may use the ATM, truthful or not. It is this sort of amusing but subversive "culture jamming" that birthed the Occupy movement, which originated in the pages of Adbusters.
See more pictures of the ATMs at RAN's website.
Ask a Question