Bank of America Reports Q4 Profit, What Happened To Durbin Losses?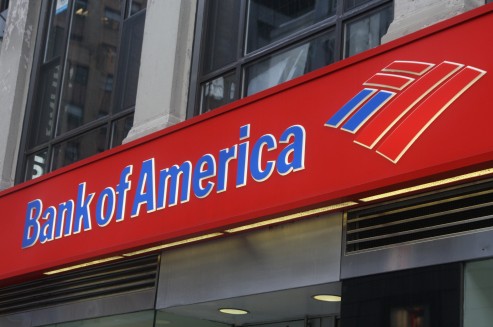 As fourth quarter earnings reports have slowly been filtering in, many people have been eager to find out if the big banks indeed took the hit they were predicting. With every new fee, fee hike, or service change, banks had the same excuse: the Durbin Amendment.
The Durbin Amendment, which falls under the Dodd-Frank Wall Street Reform and Consumer Protection Act, puts a cap on how much banks with over $10 billion in assets can charge merchants per debit card swipe. The amendment was introduced in hopes of alleviating some of the expenses merchants had to pay, but it posed adverse effects on consumers.
The Charlotte, North Carolina-based bank reported a bump in earnings last quarter with an 11% increase from 2010's fourth quarter reports. This $2 billion increase in earnings was reported to be slightly higher that what experts were predicting for the bank.
There are many different factors that are pulled into the earnings report, not just consumer accounts or spending. In fact, the bank can attribute these high results to one-time gains on asset sales and reserve releases, according to Bloomberg.
Chief Executive Officer Brian T. Moynihan, is also working hard on making sure the bank keeps profits up by cutting holdings as well as jobs. It is predicted that Moynihan will eliminate around 30,000 jobs in order to save an annual total of $5 billion.
Will The Durbin Amendment Impact Q2 Instead?
Consumers have become wary of banks adding fees and even implementing unfair changes to checking accounts – all due to the Durbin Amendment. Now that Bank of America® has demonstrated an increase in profit, it leaves us wondering if it was due to their changes, or because the Durbin Amendment didn't affect BofA as much as previously projected.
According to an earnings call conducted yesterday morning, Brian Moynihan outlined that Bank of America® will continue working on their retail strategy.
"In this quarter, you'll see the last part of the regulatory cost coming through, that's the Durbin interchange changes. We've now absorbed the Durbin, the Reg E, the CARD Act and all the changes that occurred over the last couple of years. The focus here in consumer is to balance our customer and shareholder return needs and to continue to work on our cost structure reducing branches as we've done this year."
One of the bigger consumer banking stories of 2011 involved Bank of America®'s plan to impose a $5 debit card fee, which resulted major public backlash and eventually the cancellation of this fee.
"Yes, we had some impact from the $5 debit fee," Moynihan said. "That's why we made the decision to reverse it. Those impacts in the scheme of things will be manageable."
Under Project New BAC — a plan to bolster profit — Moynihan has already implemented phase one, shaving off 18% of the company's consumer related expenses through focusing on banking, credit cards and home loans. Phase 2 is expected to bring the bank back to its goal of a 55% expense-to-efficiency ratio, focusing on cost reductions in Bank of America®'s commercial banking, global wealth and investment management, global corporate banking and global markets.
Although Bank of America® did show a profit, it doesn't mean they are in the clear when it comes to making up for lost revenue. Unfortunately, it still looks like the consumer will be the hardest hit as the bank struggles to maintain profits.
Ask a Question