Bank of America Testing Out New Merchant-Funded Rewards Program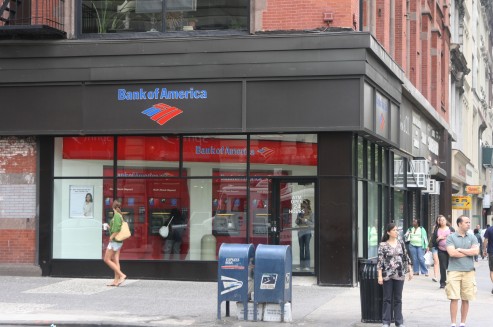 Bank of America® will be rolling out a new debit and credit rewards program that looks more like Groupon than other points based reward programs. Leveraging customer spending data, the program, called BankAmeriDeals, will offer customers discounts at certain retailers through their online banking service.
Currently Bank of America® is testing the service out on employees in the Carolinas and Nevada, and they're planning to roll out the program to all employees. They don't have a set date for when they will roll out the program for consumers.
BankAmeriDeals works sort of like Groupon in reverse, but it's free. From Reuters: "When customers log in to Bank of America®'s online banking site, they will see discount offers — a percentage off the amount spent at a retailer — embedded in their statement and under a separate tab." Customers must accept an offer and use their BofA credit or debit card to make the purchase — for which they will pay face value — and they get the money back at the beginning of the next billing statement.
Merchants pay for the deals, and according to Reuters, Bank of America® "will not receive payments from customers or merchants but hopes to deepen relationships with existing customers and attract new ones."
Merchant-Funded Rewards on the Rise
Other banks have rolled out similar programs, Ally Perks being perhaps the most similar. Like BankAmeriDeals, Ally Perks makes online offers at specific retailers, but immediately refunds customers after the purchase has been made. Regions Cashback Rewards works similarly, too. Bank of America® will be among the largest banks to offer this sort of merchant-funded rewards program.
Last fall, Chase reinvented its Ultimate Rewards debit card rewards program to leverage merchant partnerships to deliver deals and savings to customers through a points-based system. Chase debit card users are able to earn points at a faster rate when shopping at certain retailers. Like many banks, Chase had previously canceled its debit card rewards program after new regulations were expected to reduce revenue from debit card transactions.
In an effort to bring value to relatively mundane debit cards, BankAmeriDeals and others like it appear to be capitalizing on the growing popularity of online couponing, personalized offers, and daily deals.
Compared to the merchant-funded rewards programs by other banks, BankAmeriDeals may lack the friendlier consumer experience. Ally Perks and Chase Ultimate Rewards does not require customers to "accept" a discount of offer – some customers may be surprised they got a deal. Furthermore, Ally Perks send cash back to customers right after the purchase, not during the next monthly account cycle.
But, Bank of America® is making an attempt to spice up its debit cards and, consequently, its checking accounts.
Not a Groupon in Your Bank Account
Unlike Groupon or Living Social, Bank of America® has access to your spending data and can therefore be able to deliver more personalized deals. That being said, it seems unlikely that Bank of America® will be able to offer the local deals — at a neighborhood Thai spot, say — that makes subjecting yourself to a daily onslaught of online coupons in your email inbox worthwhile. Regions Bank, for example, touts their relationships with Ruby Tuesday and The Body Shop; Ally Perks, when it was released, promised savings at "national lifestyle and athletic apparel chains…consumer electronics retailers and casual dining restaurants."
So, if you frequently visit a massive shopping mall, you're in luck — BankAmeriDeals will likely have plenty to offer you – when they actually launch it for their customers, that is. Whether you think the program is a good deal or not, you have to admit it's quite a 180 from their $5 debit card fee they proposed in 2011.
Ask a Question