Travel On These Dates For The Cheapest Deals
Finding the best travel deal takes a combination of luck and skill. Some stumble on the perfect tickets to exactly where they are going for a ridiculously cheap price while others know tips and tricks to buying tickets. There is a lot of speculation on when to buy, and the team at Main Street thinks they have it figured out.
With the help of George Hobica of Airfare Watchdog, Main Street outlined the best travel dates for 2o12.
The Main Street logic makes sense, buy tickets during cold months and unpopular travel times — it deploys basic economical reasoning of supply and demand. Hobica helped out by releasing numbers from AirFareWatchdog, a website that specializes in tracking airfare. Here are the 12 weekends that present the lowest airfare throughout the year:
January 20 – 22
Although this weekend already passed, keep it in mind for next year. January travel dates are usually much cheaper because of the colder climates and holiday slump.
January 27 – 29
Okay, book…right…now! This weekend proves to be one of the cheapest weekends for the same reasons above. Be spontaneous and take a trip somewhere!
February 3 -5
This weekend rides the waves of the winter deals, and is actually the last one that you'll really get those winter discounts. If you have been itching to travel, this is the last weekend with lowered dates available in a while.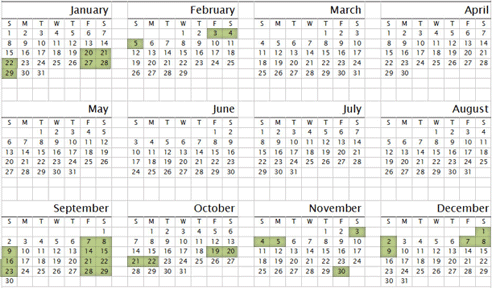 September 7 -9
Summer is winding down and the kids are heading back to school. This may be a bad weekend for kids consider there days of summer freedom have officially ended, but it's a great weekend for travel. With less people vacationing because of school-year prep, airlines often decrease their fees.
September 14-16
Although this list highlights the cheapest weekends, remember that flying during the week will take down the price quite a bit. This weekend probably has the same reasoning behind the previous one, school is back in session and the general public is not flying as much.
September 21-23
Again, September makes this list. This is just a great month to travel and according to Hobica, the Caribbean will get you the best deal. You may not want to visit though, because hurricane season poses a constant threat.
September 28-30
How'd you guess there was going to be an other September weekend? It looks like September takes the cake as best month to travel during the year, with the lack of holidays and school breaks you are bound to get the best deals.
October 19 – 22
Mid-October is a great time to travel because of the dropping temperatures. You'll probably only get the best deal in states that are further up north.
November 3 -5
This weekend falls before the Thanksgiving madness begins so airlines tend to offer cheaper deals. Demand is pretty low to travel, if you were looking for a spontaneous time to get away, traveling a few weeks before the holidays is your best bet.
November 30-December 2
Just like a few weeks before holidays is a good time to getaway, so is the weekend directly after. Although this one falls right in the middle of that time; directly after Thanksgiving and a few weeks before Christmas.
December 7 -9
Of course prices will be astronomical during Christmas time, but if you have some of those vacation days saved up go ahead and travel before then to relieve some of the Holiday Jitters.
Ask a Question